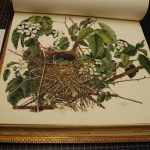 The Book Conservation Lab received a rush request to repair
a two volume set of "Illustrations of the Nests and Eggs of Birds of Ohio." The set is to be displayed at a May 9th event with author Joy Kiser discussing her book "America's Other Audubon," chronicling the publication of this work.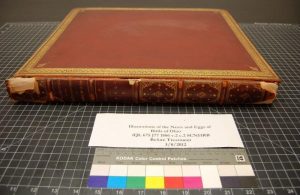 The set came to us with the cover boards detached and the spines of the both volumes compromised. Thankfully, the elaborately illustrated text was in good condition. This is partially due to the high quality paper used for the lithographic prints. The interleaving paper between the prints bears the "J. Whatman 1888" watermark, indicating that the best paper was sought out for this project.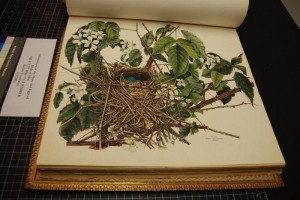 The treatment of the set included re-backing both volumes by inserting a new piece of leather under the existing spine of the book.  Every piece of the existing spine was then re-used and adhered to the new spine.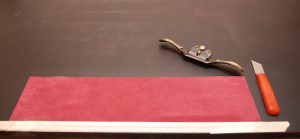 The first step in re-backing is to pare the new leather so that it is thin to the point of looking feathery at the edges.  This is done on the reverse side using a paring knife and a spoke shave (a tool traditionally used in the woodworking industry that is modified for leather paring purposes.)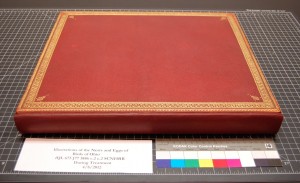 Once paired, the new leather is inserted under the old leather using wheat starch paste. Then the leather is allowed to dry and set.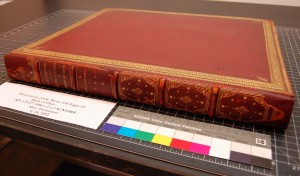 Once the new spine piece has dried, the old spine piece is re-adhered so that as much of the original binding as possible is retained.
With the new spines in place the set can now be used by researchers with out risking damage to the books. Working on volumes of this quality and historic significance was an absolute pleasure!
You can see more of the gorgeous plates on our website here or join us tonight for Ms. Kiser's talk!