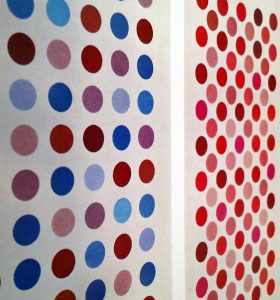 In conjunction with the exhibition "Hard-edged, Bright Color: The Washington Color School" at the American Art and Portrait Gallery (AA/PG) Library, the blog will be exploring the group of color artists to accompany the exhibit running until late spring. We'll be exploring three of the "first generation" Washington Color School artists: Thomas Downing, Howard Mehring, and Paul Reed.
After serving in the army, Thomas Downing returned to the art scene when he began a teaching position in Prince Georges County, MD. It was during this time that a student show at Catholic University inspired him to use his G.I. benefit to enroll in a summer art course. He was taught by Noland, whose target paintings would have a great influence on Downing's own artistic work in that they represented the power of expression that could be achieved with pure color. Downing's characteristic dot paintings were created from an experimental period when the artist was looking for his own form.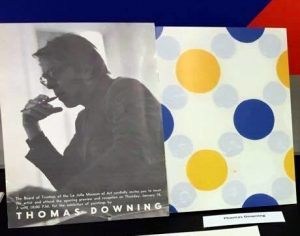 Two pieces in "Hard-edged, Bright Color" demonstrate Downing's developments with the dot. The first is an invitation to the 2002 exhibition Thomas Downing: Origin of the Dot, paintings from the Vincent Melzac Collection at Conner Contemporary Art in Washington, DC. The cover image is Downing's Blue and Gold of 1963 in which the dots are arranged in a less structured floating design with a combination of vibrant and muted colors. In contrast, the 1970 Thomas Downing Paintings catalogue from Pyramid Galleries contains the artist's Grid thirteen and Grid six of 1970 where Downing has arranged the dots in a grid pattern of blunt colors.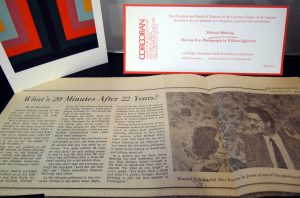 Howard Mehring was also taught by Kenneth Noland at Catholic University and from 1956-1958 he shared a studio with Thomas Downing. During the mid-1950s Mehring worked in a fashion similar to Jackson Pollock, on the floor, as he dripped and poured paint onto unsized canvas. By 1957, Mehring's distancing himself from the hard-edged geometric paintings of what Clement Greenberg coined as "Post-painterly abstraction" and developed a distinctive style of sensuous, softer yet still vibrant paintings considered part of the "Lyrical abstraction" trend.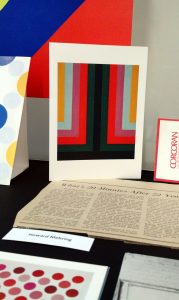 However, by the early 1960s, Mehring returned to geometric patterns, this time imposing them over areas of textured color or experimenting with L-shaped compositions as can be seen in his oil painting Two and Three of 1966. Around 1969, Mehring abruptly ceased painting for unknown reasons, working solely on drawings for the remainder of his life. He died of a heart attack in 1978 at the age of 47.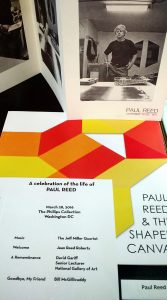 Last on our list of the Washington Color School first generation painters is Paul Reed. Beginning his career as a graphic designer, Reed moved to Washington D.C. to launch a freelance agency for publications and advertising. Having been previously acquainted with Gene Davis, he rekindled the old friendship and by 1953, he committed himself to painting. Like his fellow Color Painters, Reed worked on the floor creating abstract patterns filling large canvases using the stain technique. By 1962, Reed had developed his personal style which saw a geometric organization of sharply-outlined, organic forms. The AA/PG Library Art and Artist File for Paul
Reed contains a poster reproduction of his painting 4E from 1965, displayed at the Corcoran Gallery of Art's 1966 exhibition Washington Artists Exhibition No. 35: Paul Reed. At this time, Reed was interested in "zones of color where the tone functions as the shape."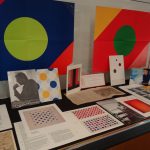 Already by 1965, a "second generation" of artists were working under the paradigm of the Washington Color School including Sam Gilliam, Willem de Looper, Ed McGowin, Alma Thomas and Hilda Thorpe.
The exhibition "Hard-edged, Bright Color: The Washington Color School" at the American Art and Portrait Gallery (AA/PG) Library will remain on display until spring 2017.
For more on Washington Color School and this exhibition, see blog posts:
HARD-EDGED, BRIGHT COLOR: THE WASHINGTON COLOR SCHOOL.
HARD-EDGED, BRIGHT COLOR: PURE COLOR.
HARD-EDGED, BRIGHT COLOR: BEYOND THE END.
—"Hard-Edged, Bright Color" was produced by Angelique Roy, with assistance from Anne Evenhaugen. Roy was the 2016 ARLIS/NA Wolfgang Freitag Internship Award recipient, and completed her internship at the Smithsonian American Art and Portrait Gallery Library.
Save
Save