This post was written by Karina Kletscher, spring intern in the Smithsonian Libraries Research Annex.
As a student in my second semester of my Master's in Library and Information Science program, my goal was to find an internship that would fill the gaps in my experience and curriculum. I found so much more in my time at the Smithsonian Libraries Research Annex (SLRA). Not only was there serendipitous mirroring of my weekly coursework, I learned a great deal about working in and maintaining a research library. Looking back, this internship has been the best kind of complementary fieldwork.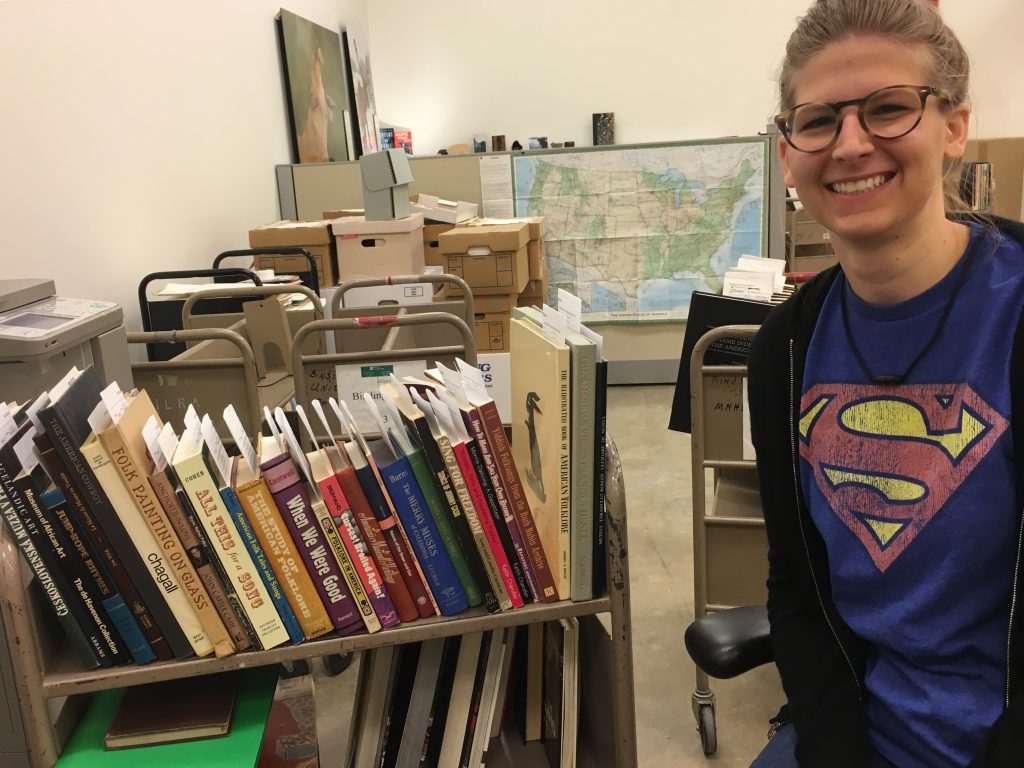 Not that I didn't believe Daria Wingreen-Mason, my supervisor, during our phone conversations about the Center for Folklife and Cultural Heritage (CFCH) collection's unique diversity, but it was entirely different to actually see the breadth of disciplines, countries, and subcultures represented in it. Opening each box was like Christmas: I felt the childlike giddy anticipation because I had quickly learned anything could be inside. Just a few interesting titles and topics include Blood-Stoppers and Bear-Walkers: Folk Tales of Canadians, Lumberjacks, and Indians, histories of audio technology, Memoirs of an Iowa Veterinarian, American slave spirituals printed in German, and exhibition catalogs. I loved flipping through them as I processed. One of my favorites was a children's book with a highlighter yellow tartan cover called The Magic Bagpipe that had lush illustrations typical of the midcentury modern style. I could not get the "shimmy shimmy coco pop" jump rope and handclapping rhyme out of my head after seeing it in The Great American Book of Sidewalk, Stoop, Dirt, Curb, and Alley Games. I encountered Nikki Giovanni's poetry such as "Revolutionary Dreams." Songs of '76: A Folksinger's History of the Revolution revealed to me that Hamilton's "Yorktown (The World Turned Upside Down)" is named for a real patriot song "The World Turned Upside Down."
These monographs, non-serial publications unlike magazines or journals, were largely from the 20th century with a number from the mid-aughts and one or two surprises from the late 19th century. Seeing and handling them was like the ultimate survey seminar of 20th century mass publication and production. I encountered a range of sewn and adhesive bindings, paper and clothbound covers, and paper. These elements play a large role in both the history of collections and how they are handled in the library today. This is particularly in regards to the use and stabilization of books with adhesive bindings and acidic paper that have aged poorly due to material construction and a lifetime of handling that require special care to ensure continued access for researchers. My part in the pre-processing allowed me to flag any materials for "shelf prep/special handling instructions" regarding enclosures or other treatments that would then be reviewed by other staff to assess.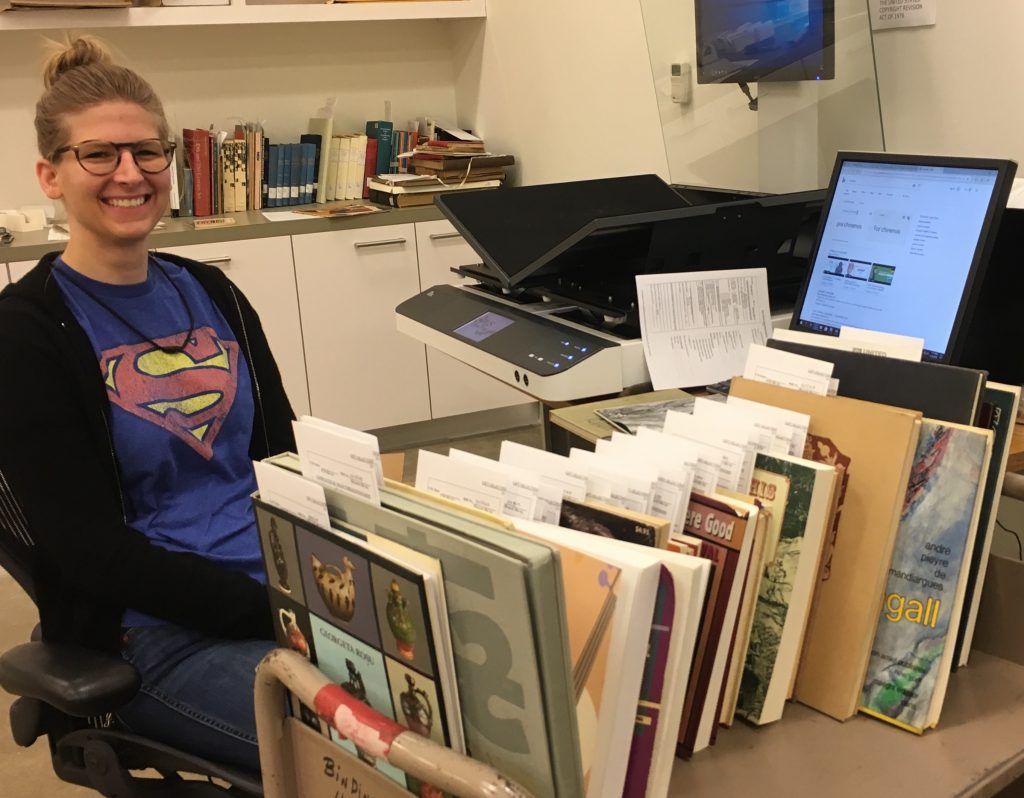 Working with the CFCH collection, I continued the work of other interns before me – our own small legacy – in pre-processing these monographs and developing what will become a searchable and circulating collection housed at SLRA. My first semester had introduced me to the collections lifecycle: how materials enter (acquisitions and accessions), are used, and potentially or eventually are removed (deaccessioned). This cycle is familiar to people as weeding the collections. It was interesting to be part of the process and understand how many people play a role in collections management as well as how they achieve it.
Class discussions of space allocations due to current trends of physical collections moving off-site or institutions running out of space materialized in front of me as I saw these conversations and planning taking place at SLRA. Libraries and archives measure collections in linear feet to make planning shelving straightforward. As collections grow, books currently shelved must be shifted to accommodate additions within the cataloging scheme. SLRA receives pallets of books from across the institution to be temporarily stored and/or added to the branch's holdings. In the case of my project, the CFCH collection falls into both categories: while CFCH's library and archive space is being renovated for a new HVAC system, some of the collection will return to the unit, while others will stay at SLRA. Calls and visits between various branches demonstrate the high level of collaboration required for each branch to maximize their space and personnel in order to operate.
Mirroring between my internship and my courses only increased especially during one of my courses' emergency preparedness unit. The same day as I practiced saving and safe handling of wet materials in a water drill, the book conservation team underwent a refresher wet drill. There was even a fire drill the next day I came in – I don't know who else gets excited over a fire drill – and later I discovered a wonderfully disgusting moldy book that needed to be isolated until it could be reviewed by the conservation team. With the annual global MayDay campaign to promote the importance of emergency preparedness, the Smithsonian's Preparedness and Response in Collections Emergencies (PRICE) email was yet another invaluable resource and happy coincidence in rounding out my growing experience in thinking about safeguarding the collections and the personnel who protect them.
My hands-on opportunities didn't stop with the CFCH collection. I was able to participate in several tours and events in other branches. Libraries interns visited the Joseph F. Cullman 3rd Library of Natural History for highlights including part of James Smithson's personal library and illustrations from 17th century adventuring naturalist Maria Sybilla Merian and 19th century artist Elizabeth Gould. Our visit to the American Art and Portrait Gallery Library revealed 3D artists' books and even a chicken and wild rice soup can Andy Warhol had sketched into a dedication. During National Library Week, the Dibner Library of the History of Science and Technology hosted an event showcasing manuscripts and incunabula, books printed before 1501; it was amazing to see a slice of book engineering history, such as a medieval watermark. I loved seeing the variety of collections in each library and their challenges in stewarding these unique materials. But I think my favorite experience was the Book Conservation Lab's workshop on medieval bookbinding where one of the conservators, Katie Wagner, taught us how to make our own book from punching holes in dyed goatskin to using long and kettle stitches with coated linen thread to gather the pages.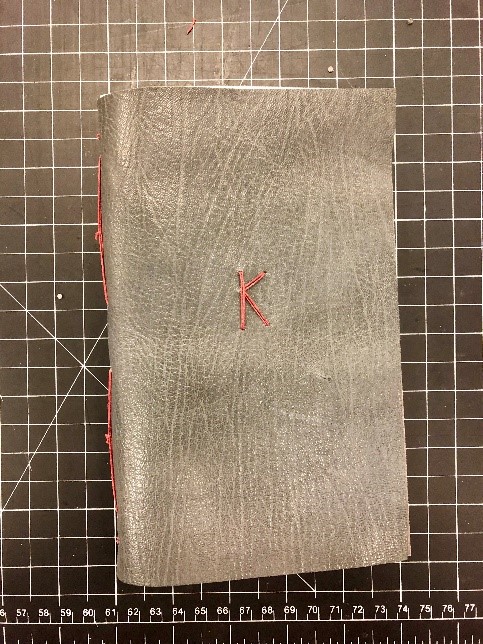 I can't believe my time at SLRA has come to an end. I have had glimpses into so many aspects of librarianship from acquisitions and cataloging, working with researchers, conservation, collections management, preservation and general administration. I am incredibly grateful to both Daria Wingreen-Mason and Alan Katz for not only being open to taking on and mentoring interns on top of their workloads, but working to have me onboarded as they were returning from furlough. I have learned so much from both of their perspectives and pathways to librarianship. I will miss sharing funny and interesting discoveries in the collections!