While shelving, retrieving, or searching for trade catalogs, it is not unusual to come across one that makes you pause for a moment. This may be for various reasons including vibrant colors, unique illustrations, interesting subjects, age, or even its shape. This time an early 20th Century catalog caught my eye. Its colorful front cover brought back memories of snow days as a child, and the image was so inviting that I had to take a closer look.
The catalog is entitled Fall & Winter Catalog 1915-16 (1915-1916) by John Wanamaker, and as the title suggests, it advertises Fall and Winter fashions of the season. The front cover shows a lady and girl pulling a sled on their way out the door into a snowy landscape. Though we dressed much more casually, this image reminded me of snow days and heading out to the neighborhood park to sled.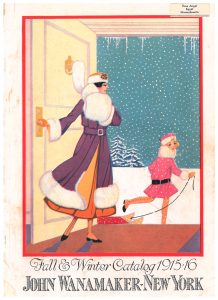 Besides the warm clothing and coats you would expect to find in a Fall and Winter catalog, there are also pages devoted to shoes and accessories like hats, handbags, and gloves. Household items such as linens, towels, and curtains are also included. These products were available in the Wanamaker department stores and via their mail order service.
Let's take a closer look at this catalog. It primarily focuses on clothing for women and young ladies, such as the page below illustrating women's skirts and blouses. The three-tier high waistline black skirt worn by the lady on the right was available in either satin or taffeta, and the upper two tiers were embellished with scalloped edges. To complement the skirt, a lady of 1915 might have chosen the taffeta over-blouse, also with scallops around the bottom. This was available in black or navy blue and finished off with a flat collar and matching belt.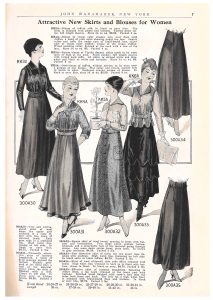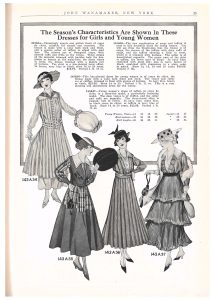 Moving farther along, several pages focus on fashion for girls and young women. There are party dresses, school dresses, skirts, blouses, and suits. On the page above, the young lady in the polka dotted hat is wearing a three-tiered pleated dress with a velvet belt. This dress was available in navy blue, cadet blue, or black crepe de chine and navy blue or black taffeta.
The page below shows work clothing or uniforms. These include dresses for nurses, maids, and waitresses. A waitress, second from the left, might have worn a black mohair dress with a high embroidered turn-over collar and long sleeves. The maid's dress on the far right shows a buttoned-down skirt with a collar worn either buttoned or open. It was available in blue and white or black and white.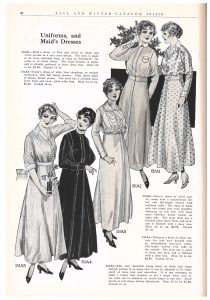 Though much of this catalog focuses on clothing, John Wanamaker also sold household furnishings. These included linens for both the dining room and bathroom. Perhaps a lady of 1915 might have chosen a satin tablecloth or sideboard cover for her dining room. For the bathroom, she might have displayed bath towels with a matching bath mat.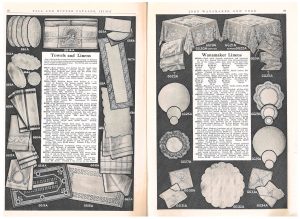 Tucked inside the catalog is a catalog order blank with an envelope. Besides being a department store, John Wanamaker operated a Mail Order Service as well. Customers in 1915 had the option of listing and describing their desired products on the order form, including whether they would accept substitutes, and according to the form, Wanamaker's "expert shoppers will understand." The form went on to explain the "order will be filled as carefully as though you personally were doing the shopping in our store."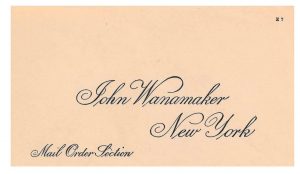 Fall & Winter Catalog 1915-16 (1915-1916) and other trade catalogs by John Wanamaker are located in the Trade Literature Collection at the National Museum of American History Library. Interested in more? Take a look at this post highlighting the Wanamaker Diary from 1910.