Today in the 21st Century, some prefer to wear watches while others use their phones to keep track of time. Let's take a trip into the past, via this trade catalog, to learn about a watch available at the turn of the 20th Century. One option for ladies was to disguise their watch with a decorative piece of jewelry.
The brooch-watch is described in this catalog entitled Book of Enameled Watches and Brooches, Catalogue No. 21, Second Edition (1901) by New England Watch Co. It includes images, many of which are in color, of both the watch cases and brooches.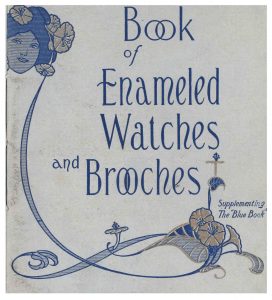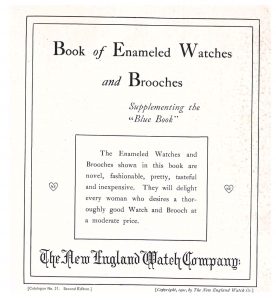 For those who wanted to wear both decorative jewelry and a watch, the brooch-watch was just the thing. An added feature was the "swivel pendant." This meant it was possible to wear the brooch-watch with the watch face turned inward and resting flat against the clothing. To check the time, it could easily be swiveled around, as the lady below is doing.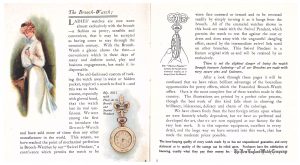 These enameled watches were available in two sizes and came in several enameled cases. Choice of cases included All-Enameled (Iridescent, Dull, or Dull Repousse), Inlaid-Enameled (Iridescent), and Repousse-Enameled. Examples of the All-Enameled (Dull Repousse) cases are shown in the below image to the right. Though similar to Dull Enameled watches, ornamentation on the Dull Repousse cases were raised above the surface.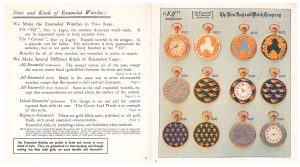 The All-Enameled (Iridescent) style watches are shown below. The entire case was covered by enamel except the narrow gold-filled center band between the front and back of the piece. On the pages below, some of the images show both the watch face and matching reverse side.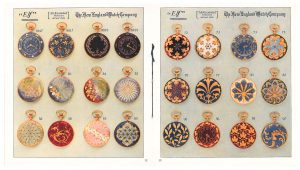 Though it was possible to buy the enameled watch without the brooch, ladies who wanted to take advantage of the "swivel pendant" feature needed to also buy the brooch. There were several brooch designs including the Fleur de lis shown below. These brooches were made of sterling silver, heavily gold plated, and over-laid with enamel, either iridescent or opaque. As shown below, the brooches matched the watches.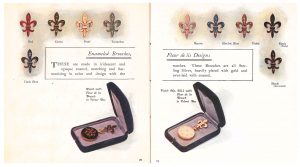 Another brooch design was the four-leaf clover. It was available in green, light blue, or white leaves and a pearl in the middle. The enamel was either dull or opaque. The catalog suggests wearing this particular brooch design with a dull enameled watch. If desired, the brooch-watch came in a velvet box, as shown below. This was a beautiful way to present a gift.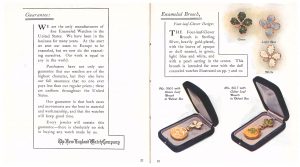 Book of Enameled Watches and Brooches, Catalogue No. 21, Second Edition (1901) and other trade catalogs by New England Watch Co. are located in the Trade Literature Collection at the National Museum of American History Library.