Although our 21 physical branches remain closed during the COVID-19 outbreak, we're still excited to celebrate National Library Week with our users near and far. While staff and researchers are certainly missing physical book collections, thousands of titles are available online thanks to the work of our Digital Library and Digitization Department.
Today, staff members from across the Libraries share their favorite works in our Digital Library and the Biodiversity Heritage Library. All of these books are freely available for researchers around the world to use. Read along with us!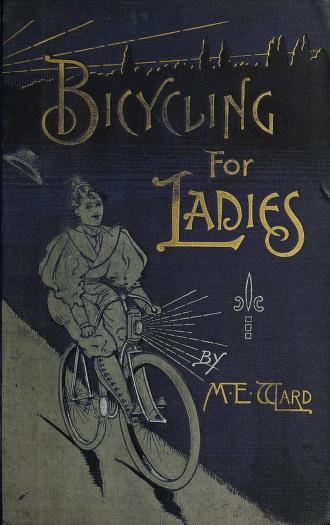 Bicycling for Ladies by Maria E. Ward
Selected by Trina Brown, the head the National Museum of American History Library
"Bicycling represented freedom and independence for many women in the late 1800s. They were able to move about easily under their own steam, without having to rely on anyone else. While many books on bicycling were published during this time, few were aimed at the growing number of women cyclists. The author of this book, Maria E. Ward, was an avid bicyclist and active member of the Staten Island Bicycle Club. Her book provides practical information and advice to help women become accomplished cyclists, with detailed instructions on the proper way to ride."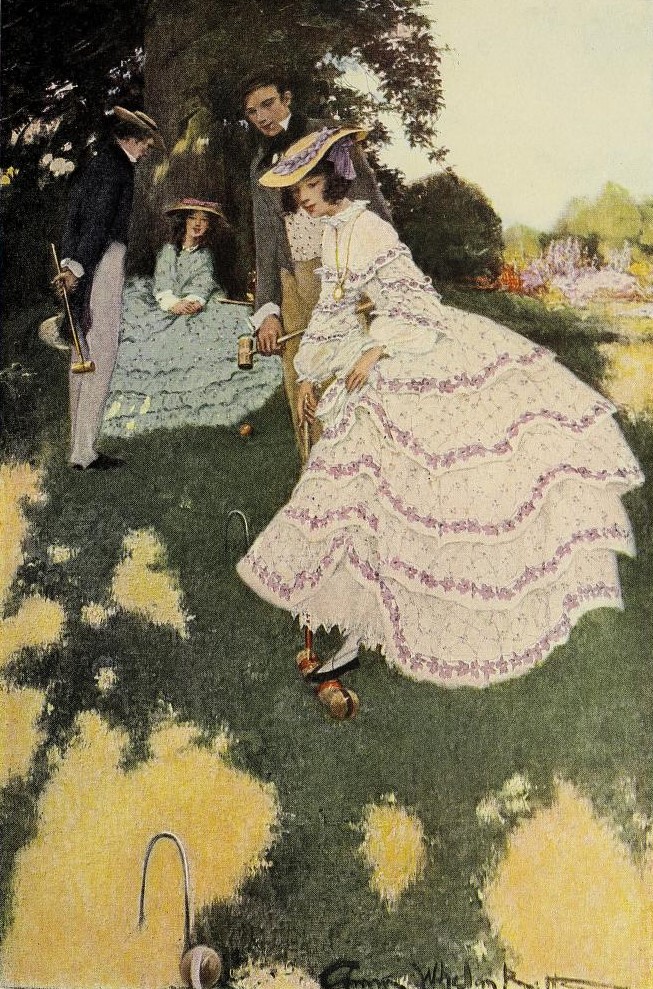 The lure of the garden by Hildegarde Hawthorne
Selected by Robin Everly, librarian at Botany and Horticulture Library
"This is not a typical book on gardening methods, but rather a meditation on how each of us responds to a garden as a place, and on the importance of gardens to humans' well-being. Chapter topics include the "social side of gardens" and "gardens of well-known people." Author Hildegarde Hawthorne was the granddaughter of Nathaniel Hawthorne and a prolific writer in her own right. The book is richly illustrated with drawings and black-and-white photographs. The last chapter speculates about America's future gardens. Will we have stately gardens similar to those in England, Italy, and France? One hundred and six years later, the answer is a resounding "Yes." The variety and number of public and private gardens throughout the United States would surely please Hawthorne. This book was written at a time, when most books about gardening were practical, how to grow food, use what space you might own to grow food and sell.  Hawthorne talks about the "healing nature of gardens and gardening" which many of us can appreciate now during the 2020 pandemic."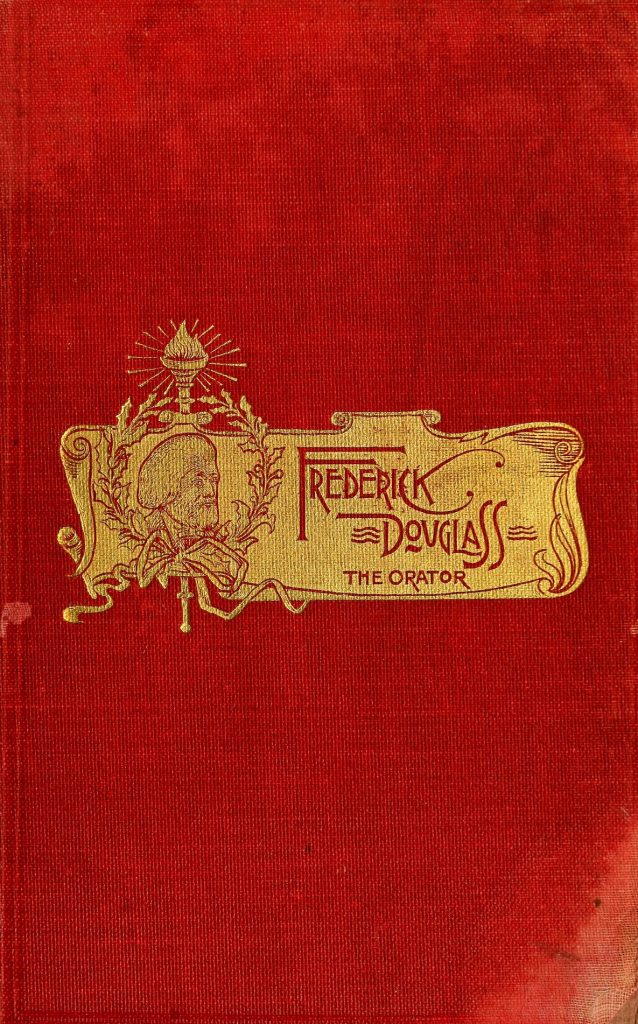 Frederick Douglass the orator by James Monroe Gregory
Selected by Baasil Wilder, librarian at Anacostia Community Museum Library
"This book is also in the Anacostia Library collection. We have a huge Frederick Douglass collection in our library, because he was known as "The Lion of Anacostia." The Frederick Douglass National Historic home is walking distance, a few blocks away, from the Anacostia Museum Library. Frederick Douglass lived right here in Anacostia for the final fourteen years of his life (he died at age 77). The book's author, Howard University Senior Professor James Monroe Gregory (who died at age 66) overlapped forty-six years of Frederick Douglass' life. He was an intimate and trusted friend of Douglass. Professor Gregory moved to DC five years before Douglass moved here."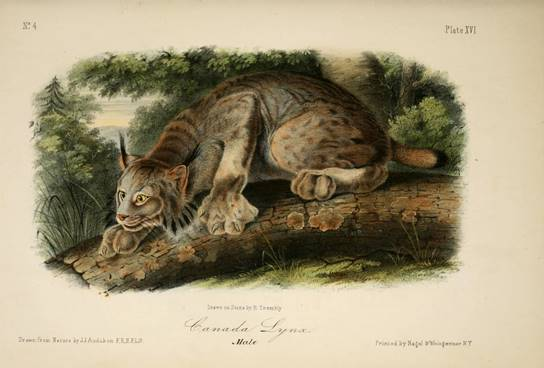 Quadrupeds of North America by John James Audubon
Selected by Polly Lasker, reference librarian in the National Museum of Natural History Library
"Since I've started leading in-house training sessions on 'Introduction to the Biodiversity Heritage Library (BHL)' I have become enamored of John James Audubon's 'Quadrupeds of North America,' using the plates in the BHL's entry for demonstrating how to download images.  It was Audubon's second great work after his 'Birds of America.' I find the variety of mammals that were captured in the drawings awe-inspiring.  Even though the copy in the BHL is not our copy we do have the volumes in our Special Collections, featured in Smithsonian magazine in 2018."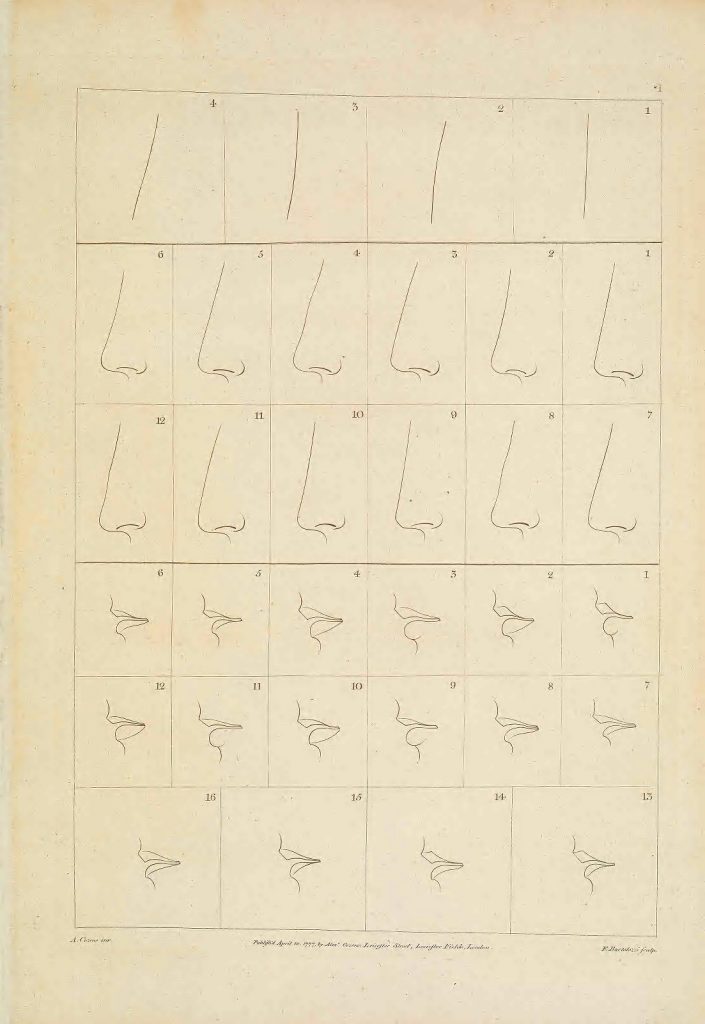 Principles of beauty relative to the human head, by Alexander Cozens
Selected by Anne Evenhaugen, head of American Art/Portrait Gallery Library.
"I have to admit, this book is such a joy to touch—the paper is thick, the type is so heavy, you can actually feel the words and drawings, and the wispy sheets of unbound tissue paper that the artist used for the hairstyles are so delicate. But to keep the Smithsonian's copy in such good shape, we have digitized it and made it available to everyone to use! So while it does mean you can't see how cool the transparent hairstyles are when you mix and match "Haughty" or "Majestic," you can get a sense of what constituted beauty and personality in the late 1700s through the artist's portraits of these archetypes. And maybe you can practice and perhaps master the profile of the nose (image at right)."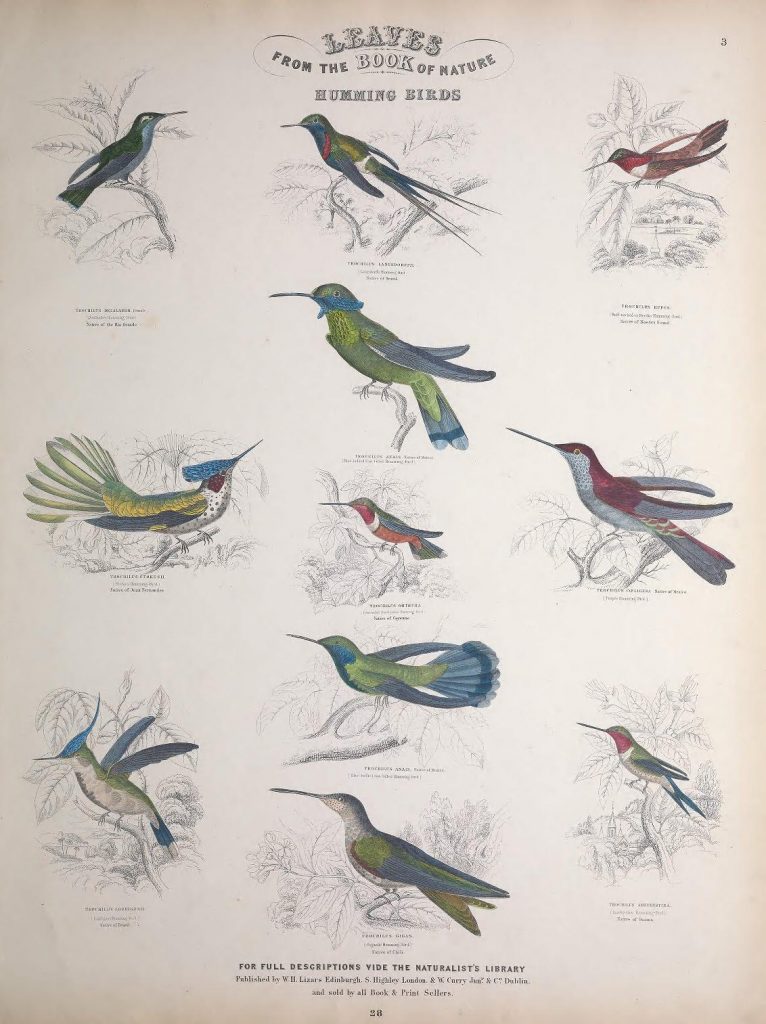 Leaves from the Book of Nature by William Jardine
Selected by Grace Costantino, Outreach and Communications Manager for Biodiversity Heritage Library
"I love this book because of its charming illustrations. I strongly believe that scientific illustrations are a powerful way to connect the public with nature to develop a love of and appreciation of biodiversity — and especially right now, these artworks are a great way to "experience" nature even if you're confined indoors. By having so many species depicted on a single plate, it invites the viewer to spend time with each plate, really studying the different animals and contemplating the relationships between them (i.e. why are all of these species together on this plate?). I also love the synergy between the original intention of the Naturalist's Library (the source of the artworks in this book) and this book's relevance today. The Naturalist's Library was intended to engage the general public with nature — the same thing I think this book can do today. Plus, I think these plates would make AMAZING wallpaper or wrapping paper."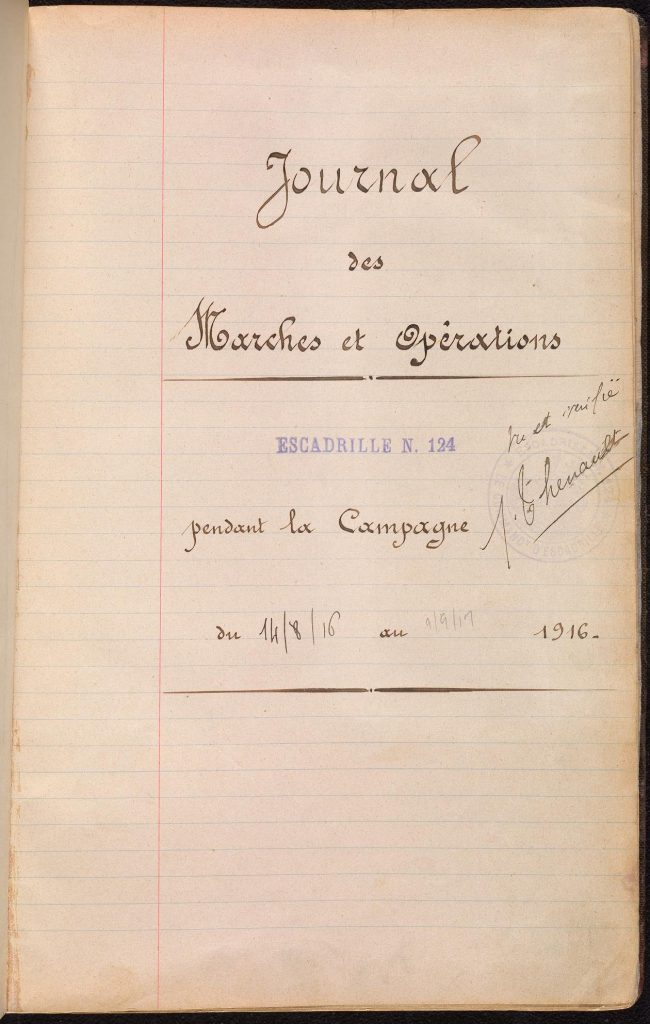 Journal des marches et opérations pendant la campagne du 14/8/16 au 9/9/17
Selected by Chris Cottrill, head of National Air and Space Museum Library
"A couple of years ago, a very bright and able Smithsonian Libraries intern translated the Escadrille mission logs from French into English. One of the facts he gleaned from the many daily flights recorded was the almost constant litany of aircraft engine malfunctions or their machine guns jamming.  Too see these events reported on an almost daily basis gives the reader a sense of amazement that missions were still carried out, air combat did occur and that Escadrille pilots and their opposition lived or died, in what was still a very new technology in an unforgiving environment."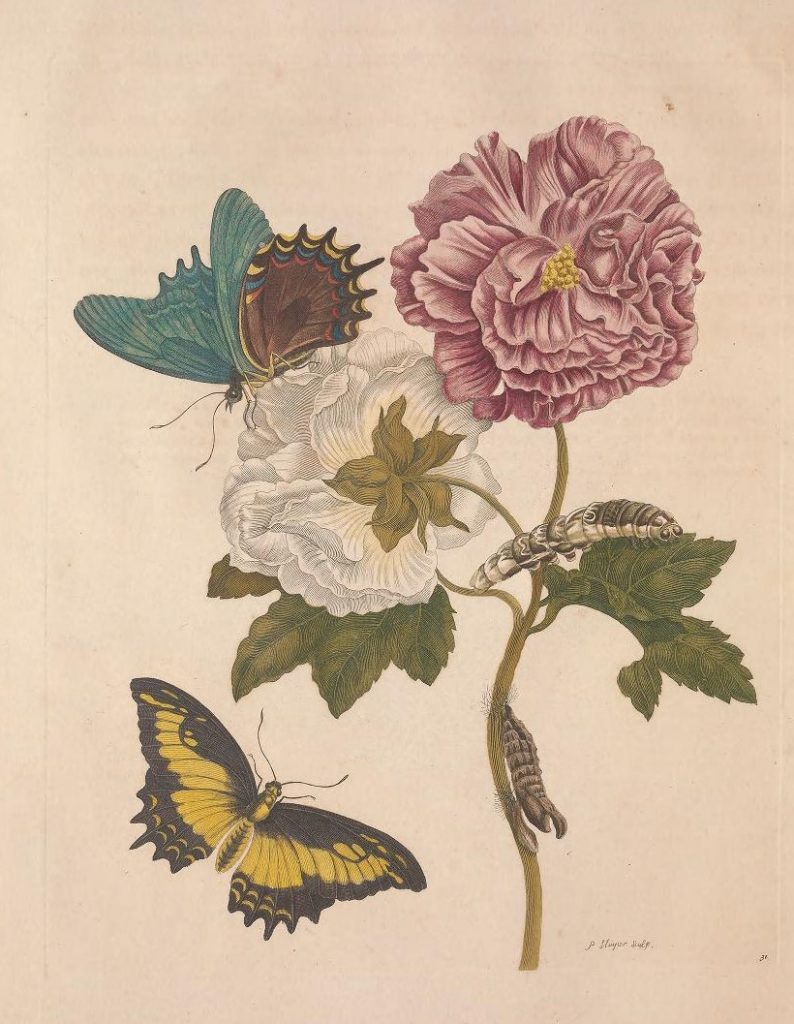 Metamorphosis insectorum surinamensium by Maria Sibylla Merian
Selected by Nilda Lopez, library technician at Cooper Hewitt, Smithsonian Design Library
"I discovered that we owned several of Maria Sibylla Merian's (1647-1717) works. She is a remarkable naturalist, famous for her expertise in entomology and details in her watercolor illustrations of insects and flowers.   It gives me great pleasure to view these beautiful images of nature while currently indoors."