As the holidays approach, children often dream of that perfect gift. What did a child dream of in the early 20th Century? Is it very different from today? Perhaps there are some similarities. We may find a few possibilities in this trade catalog.
Catalogue No. 101 (1907) by Herr, Thomas & Co. provides a glimpse into toys from the past. Besides a variety of household items, it includes a few pages of toys for a young child along with other pages of items suitable for older children.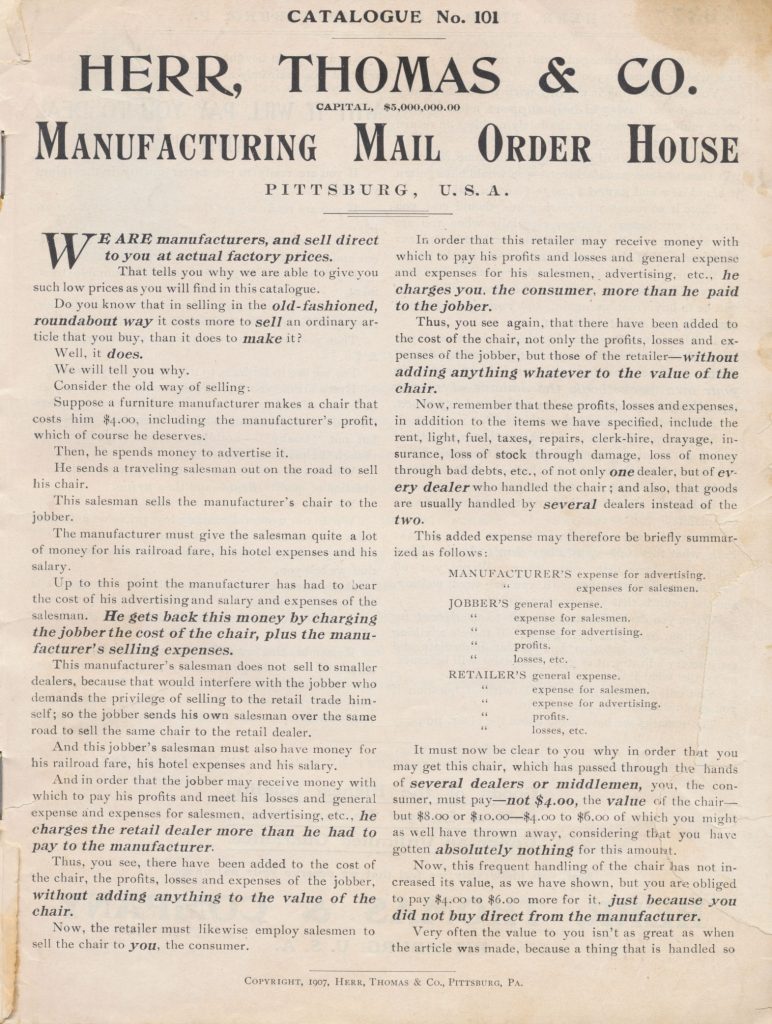 Dolls, go-carts, sleds, a tea set, and other toys are illustrated in this catalog. The doll, pictured below bottom left, is described as a "Dressed Doll." Standing 16 inches tall, the doll's dress was trimmed with ribbon and lace. White slippers and stockings along with a large hat trimmed with flowers and lace completed its outfit. This particular doll had sleeping eyes, and the face was made of French Bisque.
Today, children sometimes enjoy pushing dolls in a doll stroller. Judging from this catalog, it appears children in 1907 enjoyed that very same activity. The Doll's Go-Cart shown below, bottom right, looks like what we, today, might refer to as a doll stroller. It was constructed of reed and split hickory with rubber tires and iron wheels, and its most noticeable feature was the attached parasol to shade the doll. This go-cart was a miniature version of a full-size go-cart. Perhaps, young children dreamed of their very own go-cart to push a doll while their mother pushed a sibling in a full-size go-cart.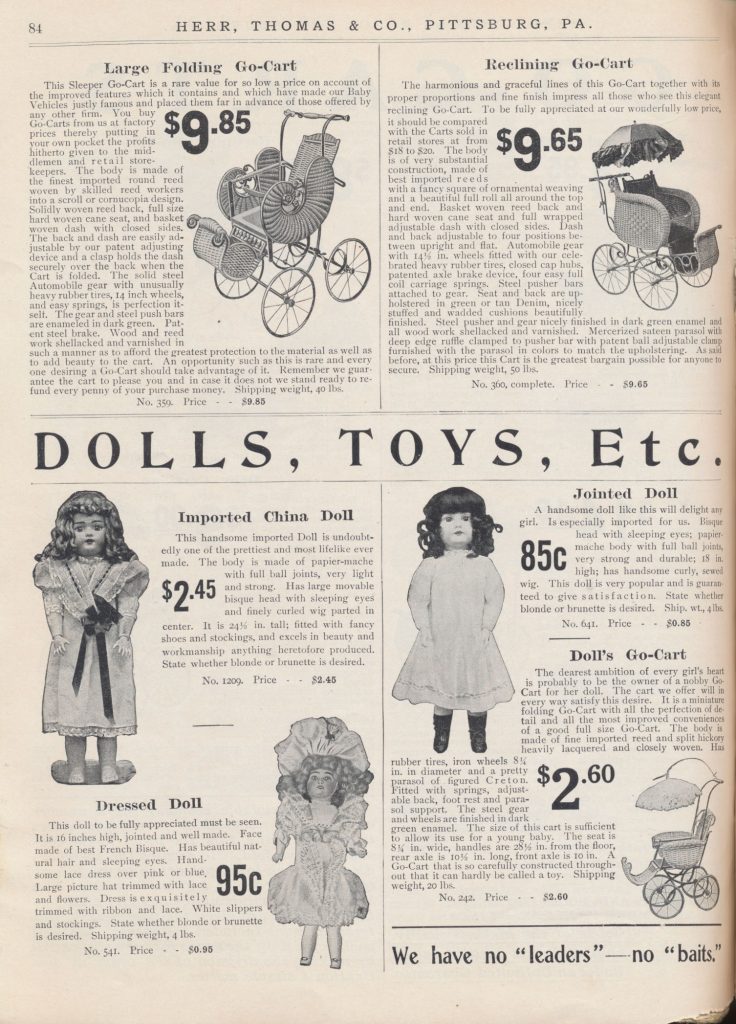 Or maybe, a child dreamed of steering an "Automobile." Pictured below, top left, the Automobile was described as a "plaything" to provide exercise and something a child "will never grow tired of." It measured a little over one foot wide and just under three feet long with 12-inch diameter front wheels and 18-inch diameter back wheels. It was painted red with a maple floor and sheet iron sides. A handy feature was the foldable seat. By folding the seat in, the Automobile transformed into a level top wagon.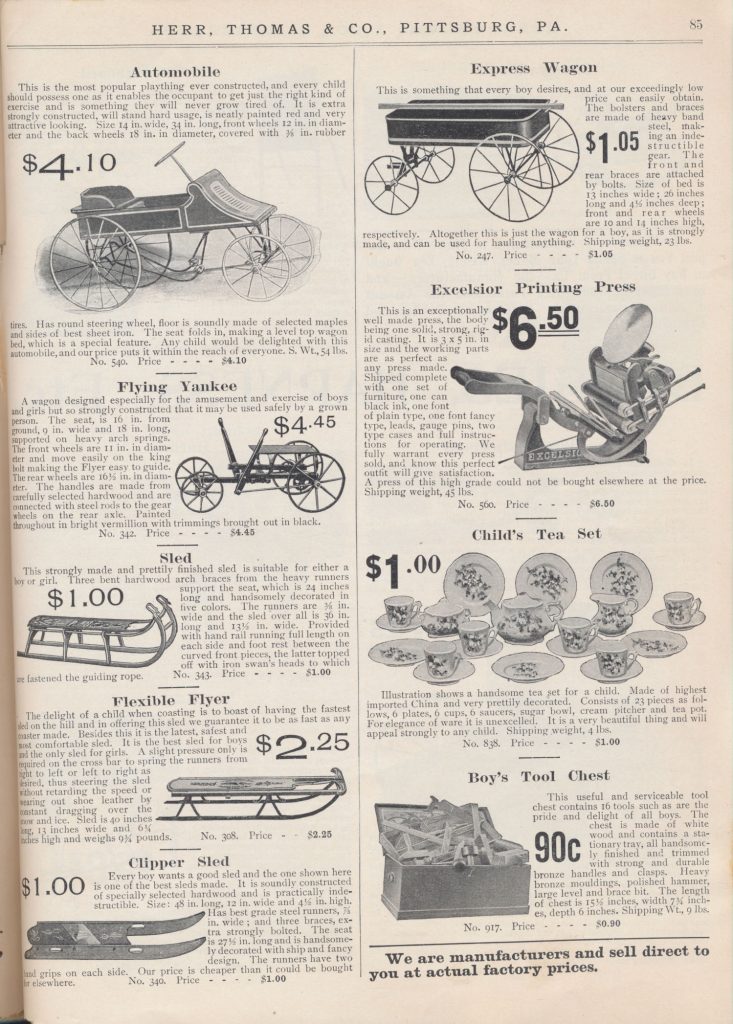 Children might have dreamed of preparing their own tea party or fixing a broken piece of equipment, just as they witnessed adults do. Both the Child's Tea Set and Boy's Tool Chest, illustrated above, were a child's version of the real thing. The Child's Tea Set came with enough plates, cups, and saucers for a tea party of six children. In addition to the individual pieces, a teapot, sugar bowl, and cream pitcher completed the set. The Boy's Tool Chest, made of wood, consisted of 16 tools with a stationary tray for organizing tools. Some of the tools included in the chest were a hammer, large level, and brace bit.
An older child or teenager, perhaps an aspiring musician, might have wished for a musical instrument. Several instruments are shown in this catalog, such as the mandolin and accordion below and the cornet and trombone on another page. Musical accessories include the Music Roll, handy for carrying sheet music, the adjustable Music Stand, and the Leather Music Bag. This particular page also illustrates a Mandolin Cover, Guitar Cover, and Banjo Cover. Even though these are labeled "cover," all three appear to be instrument cases. These covers were made of extra heavy duck and lined with red felt.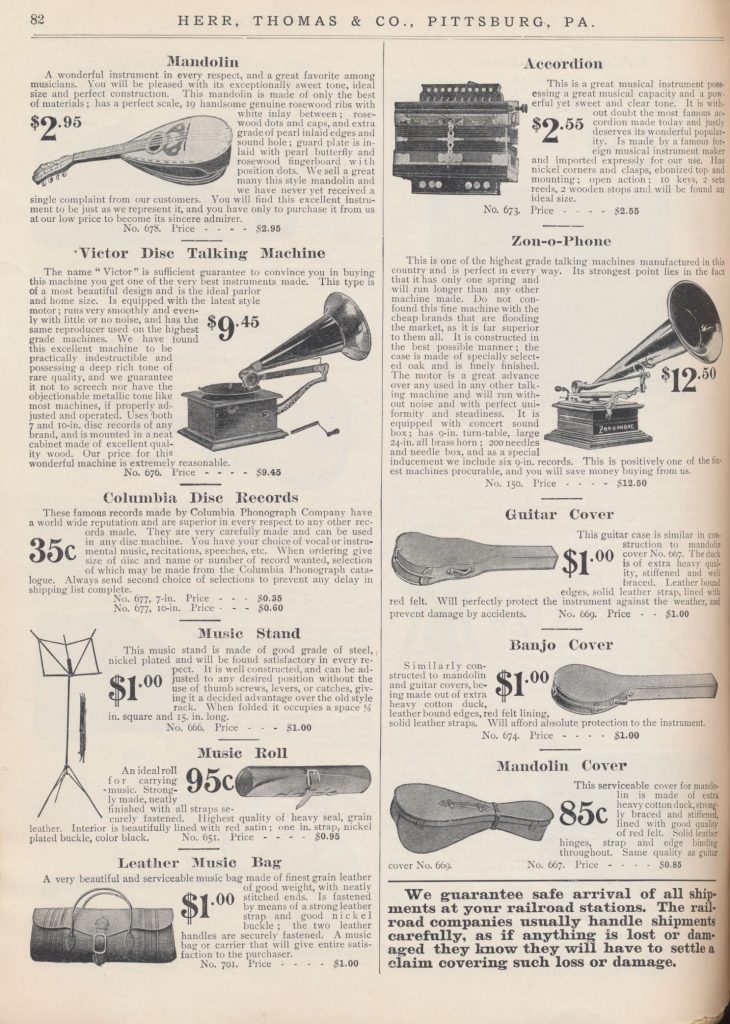 Others might have preferred jewelry. Perhaps, the Birthstone Ring, shown below, appealed to a teenager. Made of 14-karat filled gold in a plain band, it was mounted with the appropriate stone corresponding to a particular birth month. The examples of jewelry below also include a Child's Ring with opal and a Baby Ring made of 14-karat rolled gold.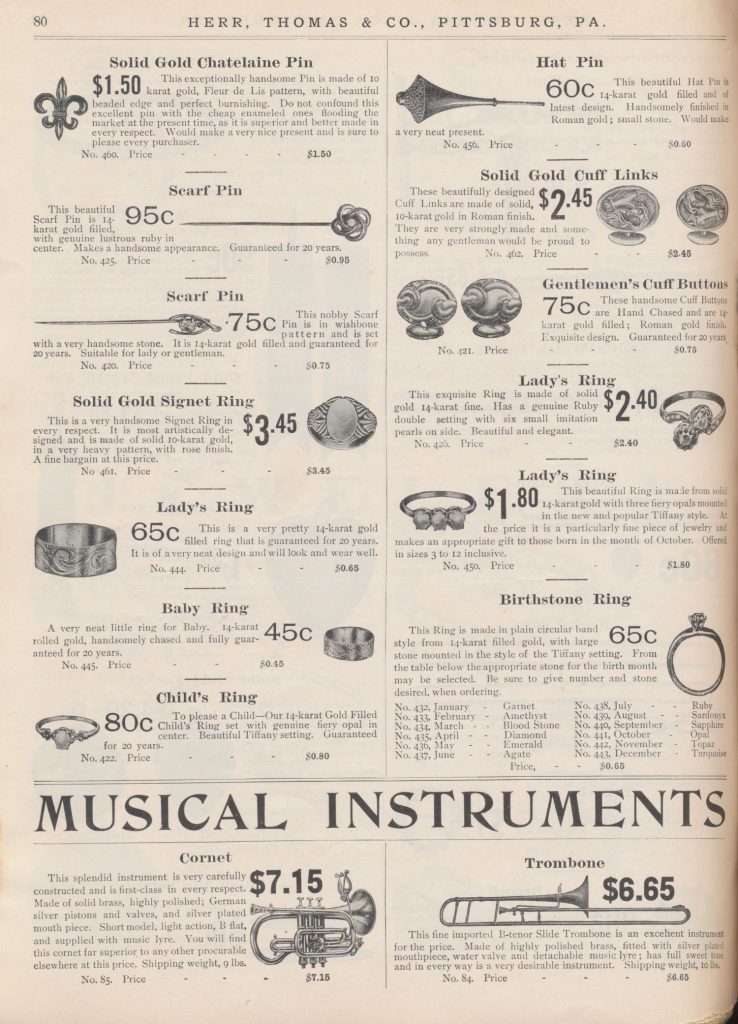 Though not specifically a Christmas or Holiday catalog, consumers from 1907 might have stumbled upon gift ideas while perusing this catalog. Catalogue No. 101 (1907) by Herr, Thomas & Co. is located in the Trade Literature Collection at the National Museum of American History Library. To learn more about the mail order aspect of this trade catalog and other items pictured in it, take a look at this post about writing supplies.