Today, most people are familiar with online shopping but some might also remember mail ordering. While one method uses computers, the other relies on paper. However, there are similarities. Both allow consumers to shop from the comforts of home, and both require mailing and shipping at some point. Then, items are delivered direct to the customer's door. The Trade Literature Collection includes a variety of mail order catalogs. Let's take a look at one from 1907.
This trade catalog is titled Catalogue No. 101 by Herr, Thomas & Co. (1907). On the first page, the company is described as a "Manufacturing Mail Order House" that sold directly to customers at factory prices. The catalog illustrates all kinds of products. It includes everything from furniture and home furnishings to jewelry and clothing. There is even a section on grocery and pharmaceutical items. Many of the products sound similar to what today's online shoppers might order.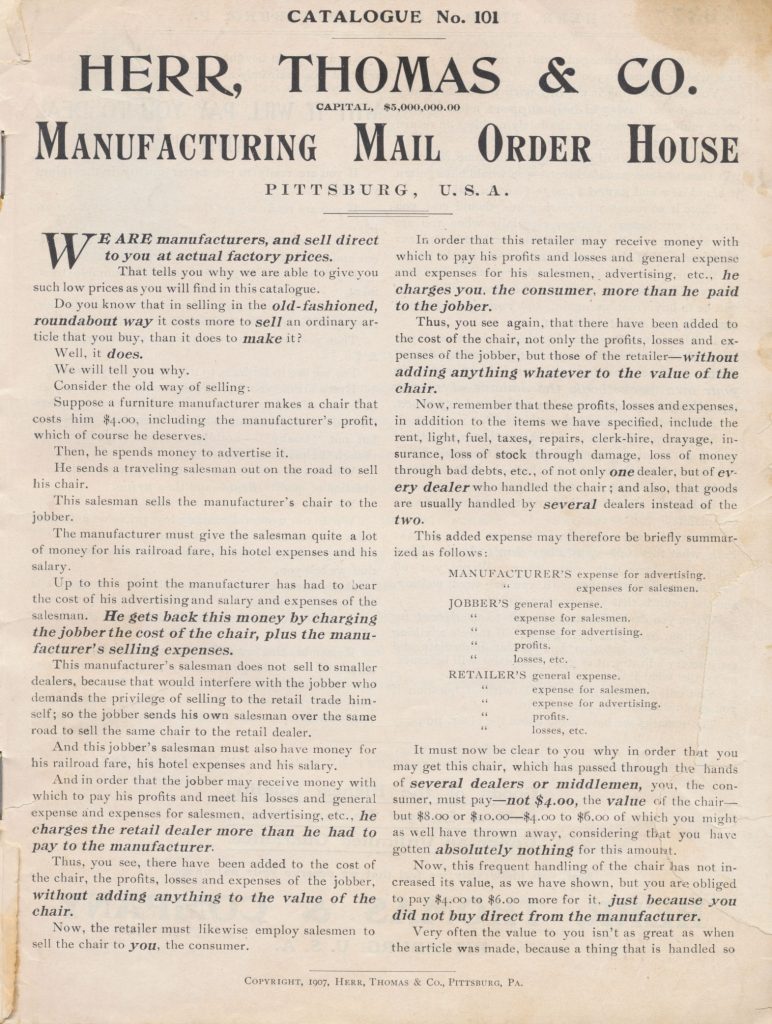 Mail ordering was meant to be as easy as possible. That is how Herr, Thomas & Co. explained it in the "General Rules and Instructions for Customers" section. The customer was asked to simply mail a completed order blank, or form, with payment. Besides noting the specific items being ordered along with related information such as quantity, design, etc., it was important to include the Catalog Number on the order blank as well. If an order blank was not handy, any blank paper was acceptable as long as all necessary information was provided. For the convenience of customers, the catalog included delivery options and a table of freight and express rates based on location.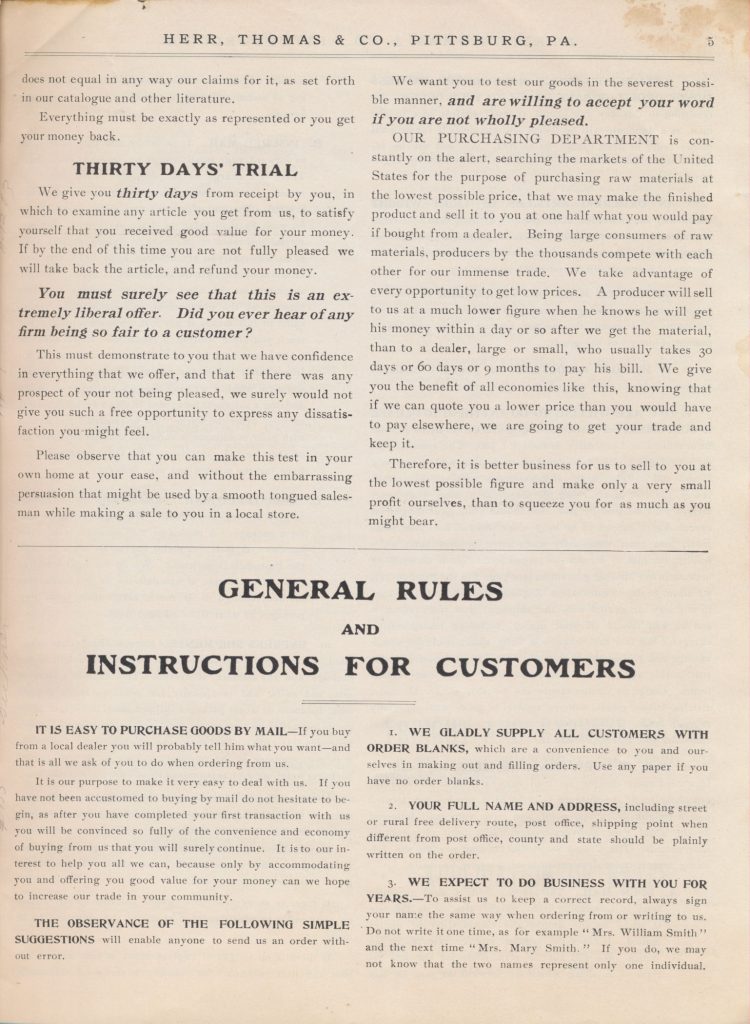 In the early 20th Century, a common form of communication was writing letters. Perhaps, someone in 1907 might have ordered a desk, like the Combination Bookcase and Desk illustrated below (middle right). This bookcase/desk included space to store all the necessary writing supplies at an arm's reach. It even came with a mirror. Directly below the mirror was a pull-out writing desk with a writing space measuring 18 inches by 25 inches. Pigeon holes provided spots for storing stationery and other writing supplies. The illustration below shows the writing desk in the closed position with embossed decoration on its lid, or closed door. A drawer and cupboard were positioned directly below the writing desk, and additional storage was provided on the five-shelf bookcase to the left. The heart in the cornice added a decorative and welcoming touch.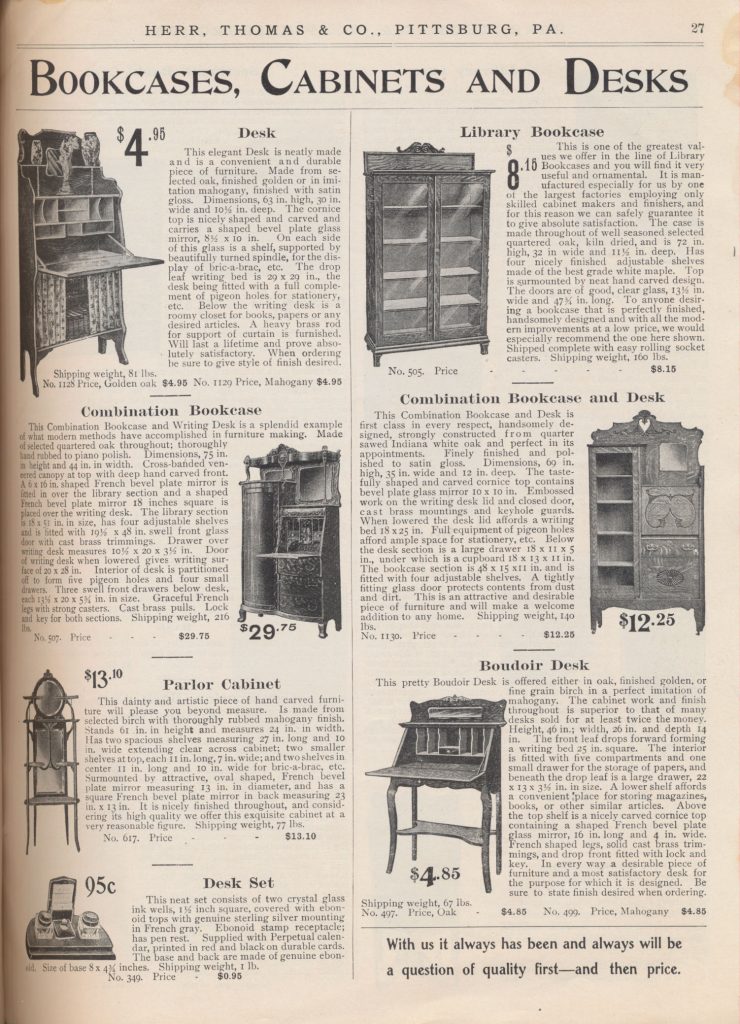 Writing requires more than a desk or quiet spot to compose a letter. Herr, Thomas & Co. also sold writing accessories, such as the Desk Set, shown above (bottom left). As might be expected, it included storage space for ink and pen. Two crystal glass ink wells accompanied the pen rest. A handy addition was the perpetual calendar so the letter writer never had to guess the date.
A writing case might also have been useful. This particular writing case below (bottom left) featured a large deep pocket to store writing materials in addition to a small pocket for miscellaneous items. Two other pockets provided space for stationery and envelopes. It came with a leather blotter, a glass inkstand with screw top, and a current calendar. When closed, the case measured eight inches by twelve inches and might have been a nice travel companion to keep in touch with family and friends back home.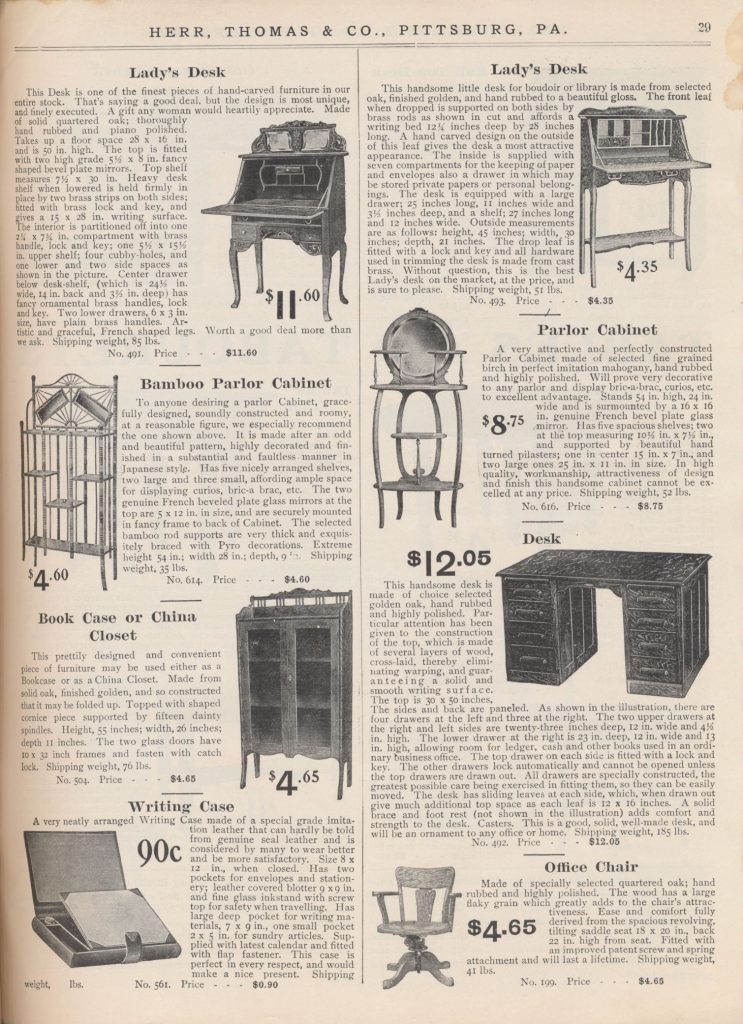 Besides desks, other types of furniture are also illustrated. The page below shows furniture suitable for a living room. Perhaps, the recipient of a letter caught up on news from a friend while reading correspondence and relaxing on a chair from the Living Room Suite. The three-piece Living Room Suite consisted of a rocker, tete, and chair. These pieces were Mission Style and made of oak. Each piece featured padded backs and loose pillow seats covered in leather. The hearts decorating the backs of the furniture seem to unify the set. The Living Room Suite was available as an entire set or individually.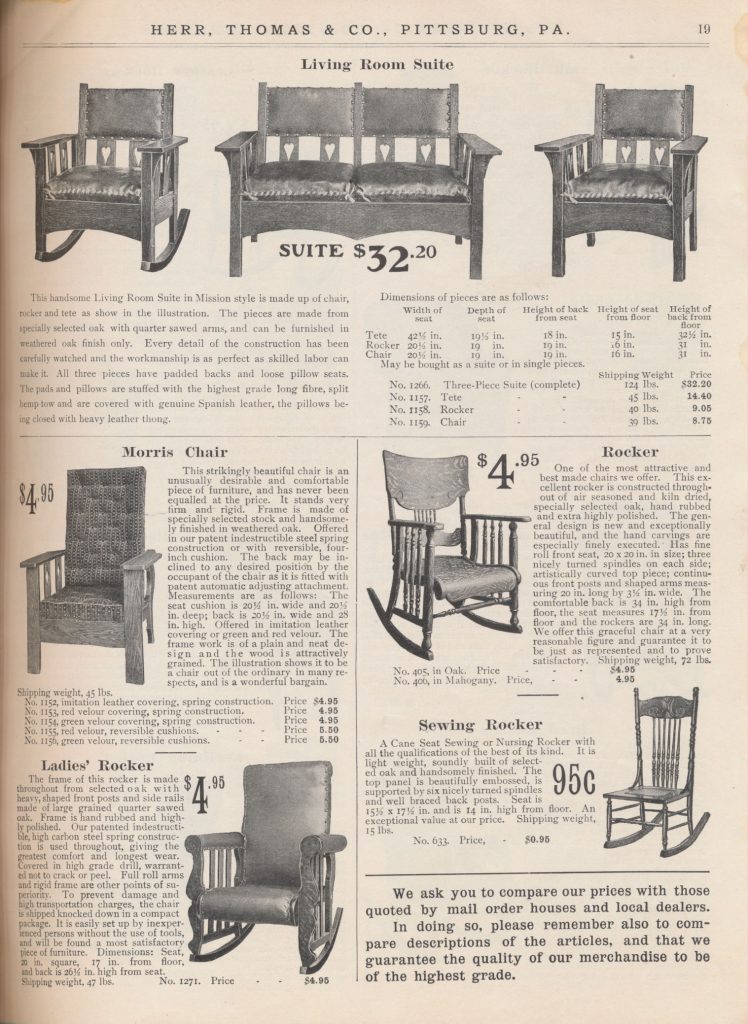 Whether someone in 1907 was ordering furniture, writing supplies, or even food and groceries, Herr, Thomas & Co. provided the option of shopping from home with their mail order catalog. Catalogue No. 101 (1907) by Herr, Thomas & Co. is located in the Trade Literature Collection at the National Museum of American History Library. Interested in more mail order catalogs from the past? Take a look at these posts about John Wanamaker's Spring & Summer 1915 catalog and Fall & Winter 1915-16 catalog.