Calling all coloring enthusiasts! #ColorOurCollections is back for 2021 and we have a brand new coloring packet just for you. We've teamed up with our colleagues at Smithsonian Institution Archives to bring you ten coloring pages to help break your winter boredom. Download them now!
During Color Our Collections, organized by the New York Academy of Medicine, cultural institutions from around the world provide inspiration and free coloring sheets for artists of all ages. At-home artists can share their creations on social media by tagging the organization and using the hashtag #ColorOurCollections. Our coloring book uses images that are freely available in our Digital Library, Biodiversity Heritage Library and Smithsonian Institution Archives Collections.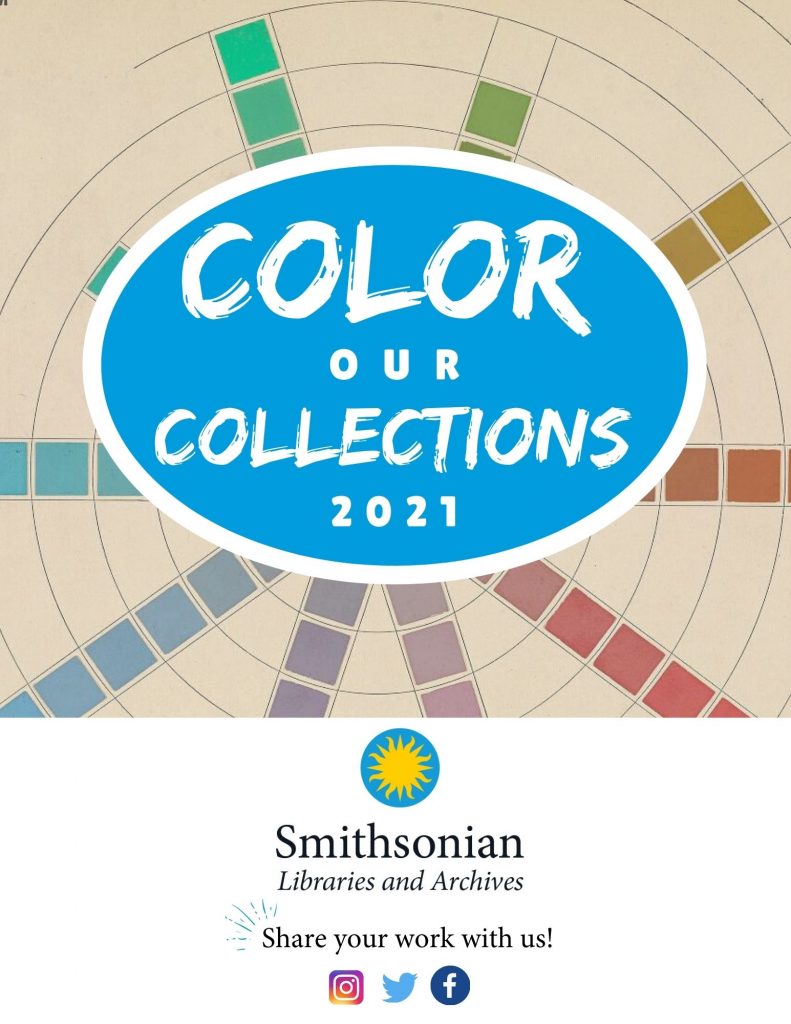 Below, we'll give you a bit more information about the coloring book images based on books and journals in our library collections. Curious about the Smithsonian Institution Archives images in the packet? Head over to The Bigger Picture blog to learn more!
"Die Insel", Die entwicklung der modernen buchkunst in Deutschland (1901).
Otto Grautoff's book Die entwicklung der modernen buchkunst in Deutschland (Development of the modern book in Germany) contains page after page of fascinating examples of German book illustration. This elaborate scene by Heinrich Vogeler of "Die Insel" ("The Island") is no exception. If you're interested in creating your own coloring pages, or just want to flip through fantastic examples of 19th and early 20th century illustration, Grautoff's book in our Digital Library is a great starting point.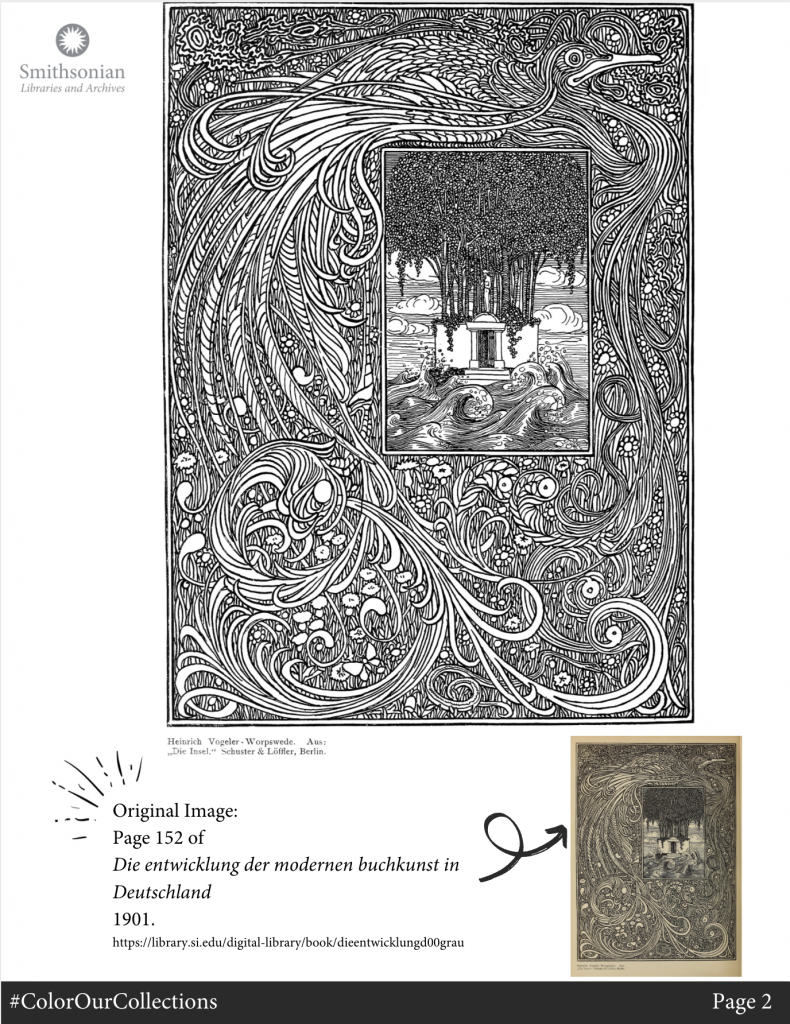 "Design for Plate", Keramic Studio, Volume 5 (1904).
Mrs. Dante C. Babbitt was one of many talented woman illustrators whose work was highlighted in Keramic Studio, a ceramics design journal started by Adelaide Alsop-Robineau in 1899.  The original book page includes instructions for exactly what colors to use when applying this design. But if Apple Green and Deep Blue aren't part of your preferred palette, feel free to choose your own shades.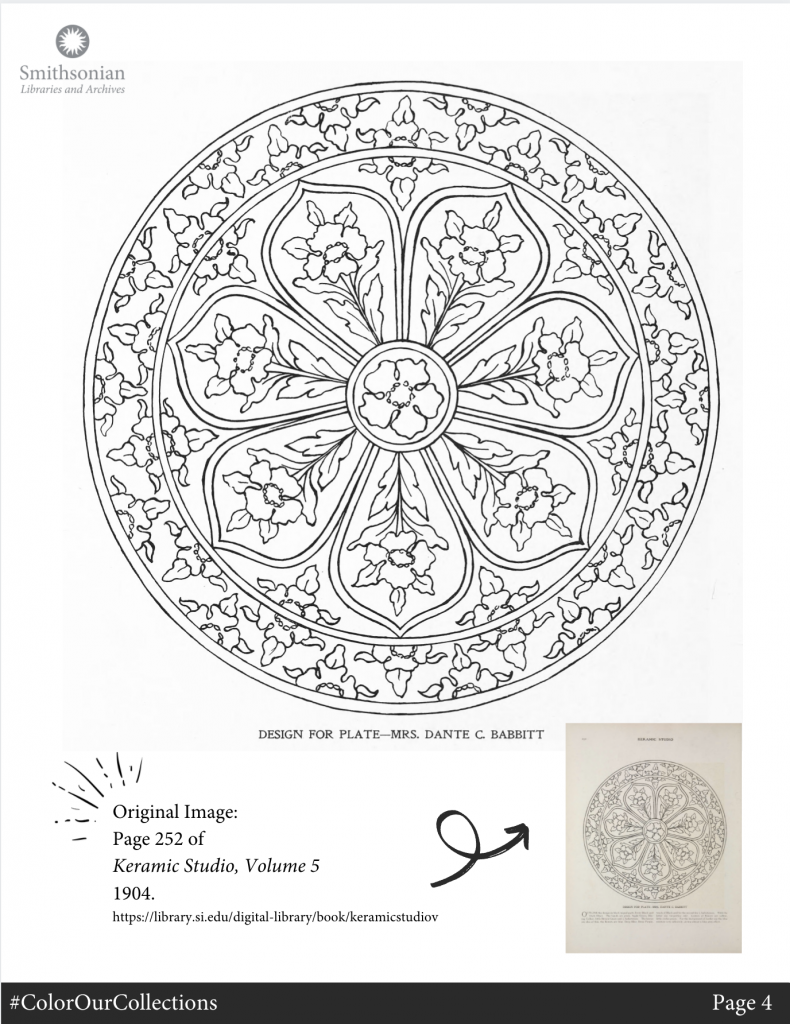 "Key to Terms in Glossary", The Genus Rosa, Part III , 1910.
With The Genus Rosa (1910-1914), English horticulturalist Ellen Ann Willmott brought together information about known rose species from a multitude of sources. The work was illustrated by Alfred Parsons, a prominent English illustrator, landscape painter and garden designer. Two volumes are available in the Biodiversity Heritage Library.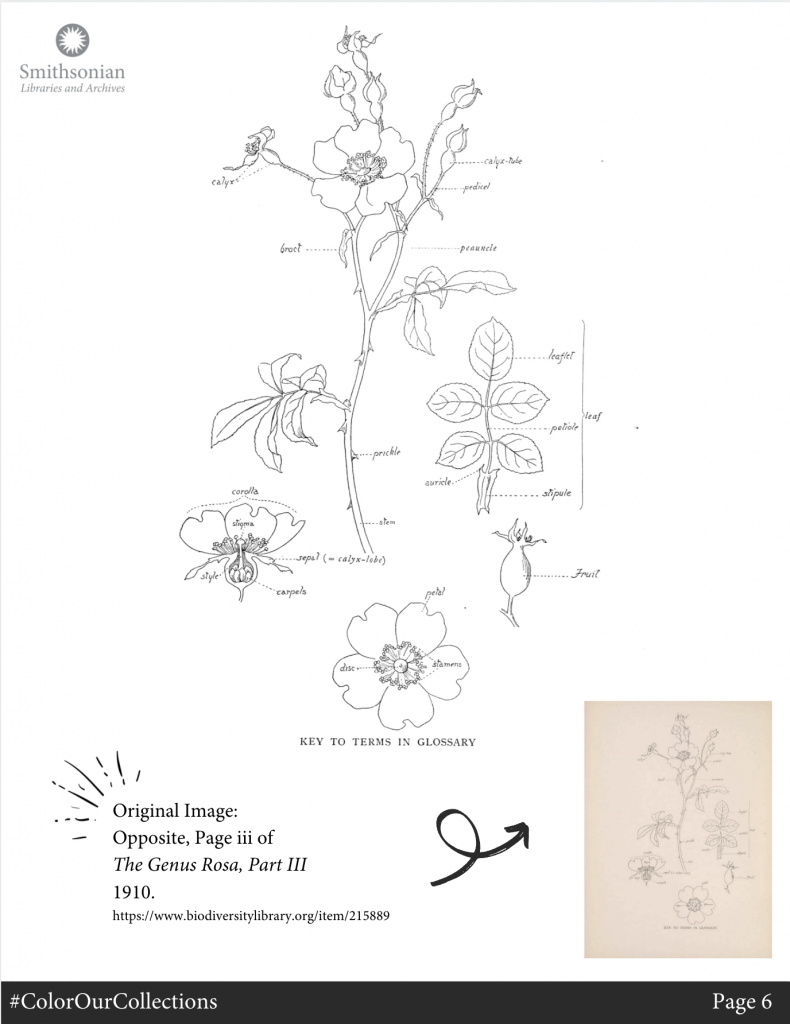 Plate IX, Gothic Alphabets, 1897.
In 2019, Smithsonian Libraries staff members Morgan Aronson and Lilla Vekerdy published Abecedarium: An Adult Coloring Book for Bibliophiles , part history, part coloring book, and part guide to historic books. Where possible, the rare books featured in Abecedarium were digitized cover-to-cover and made available in our Digital Library. Among them, Gothic Alphabets, published in 1897 by International Chalcographical Society with text by Jaro Springer.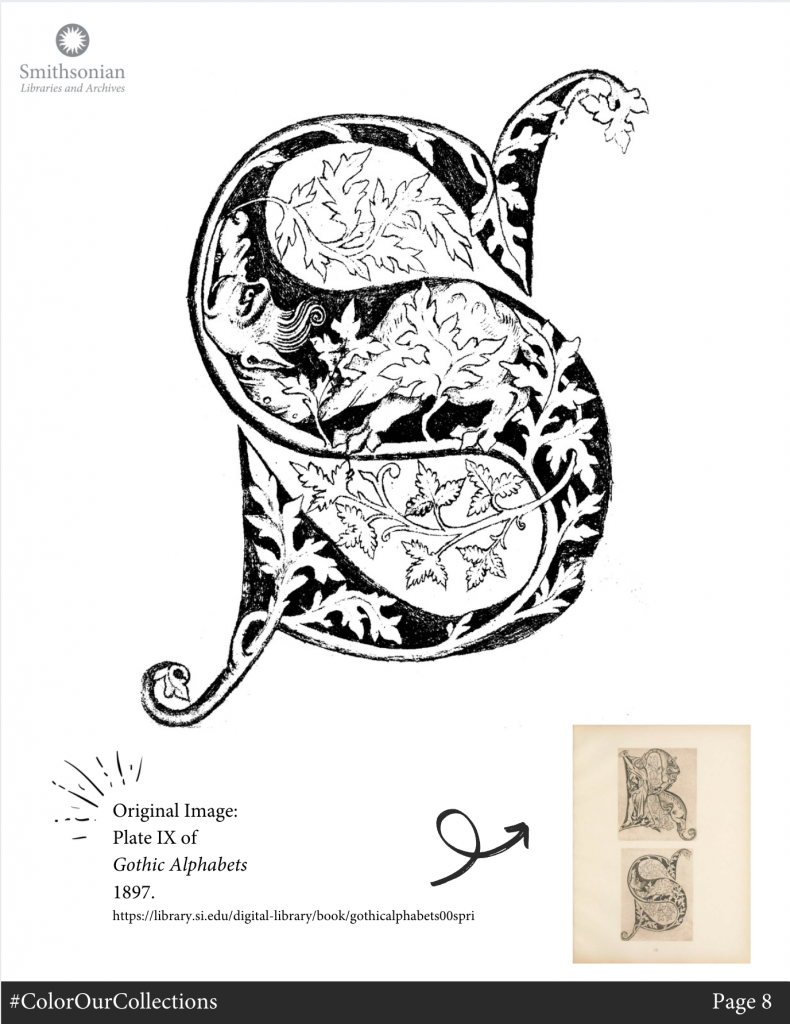 "Il Pleut Encore . . ." Gazette du Bon Ton, Tome II 1915.
Rainwear, but make it fashion. This illustration ("It's still raining . . .) by artist Valentine Gross Hugo is a wonderful example of how anything could be chic when seen through the lens of French periodical Gazette du Bon Ton. The art and style journal was published by Lucien Vogel between 1913 and 1925.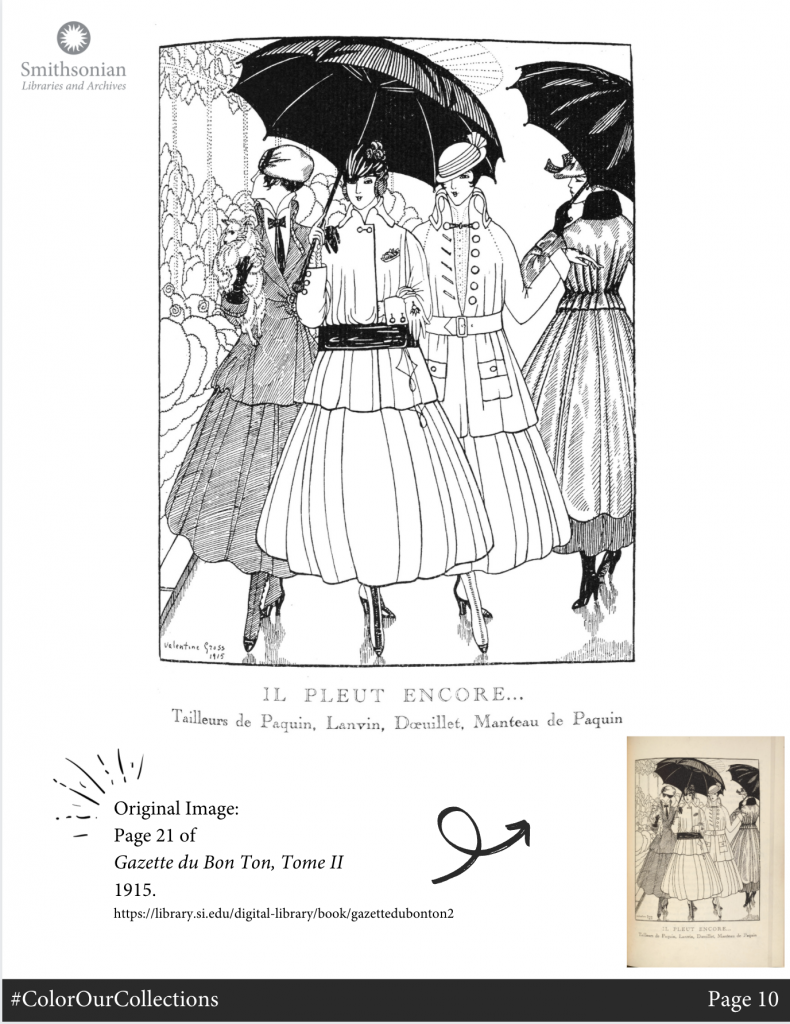 You'll rarely hear us say this but in this instance it's true: We hope you enjoy coloring in our books! Share your creations via social media and tag us (@SILibraries on Twitter and Instagram). We can't wait to see what vibrant combinations you come up with.