Are you dreaming of summer vacation? Do you eagerly read guidebooks or search online to learn about cities and sites you'll visit? How did tourists in the late 19th Century plan their vacations? The Trade Literature Collection at the Smithsonian Libraries and Archives may give us an idea. Perhaps someone in 1897 read this promotional booklet in anticipation of that long-awaited trip.
This trade catalog is titled Seven Halcyon Days of Blessed Rest (1897) by Northern Steamship Co. It provides a small glimpse into a tour of the Great Lakes aboard steamships in the Summer of 1897. Previously, we explored accommodations on these ships. Now let's take a look at how this pocket-sized booklet promoted and encouraged people to take that vacation.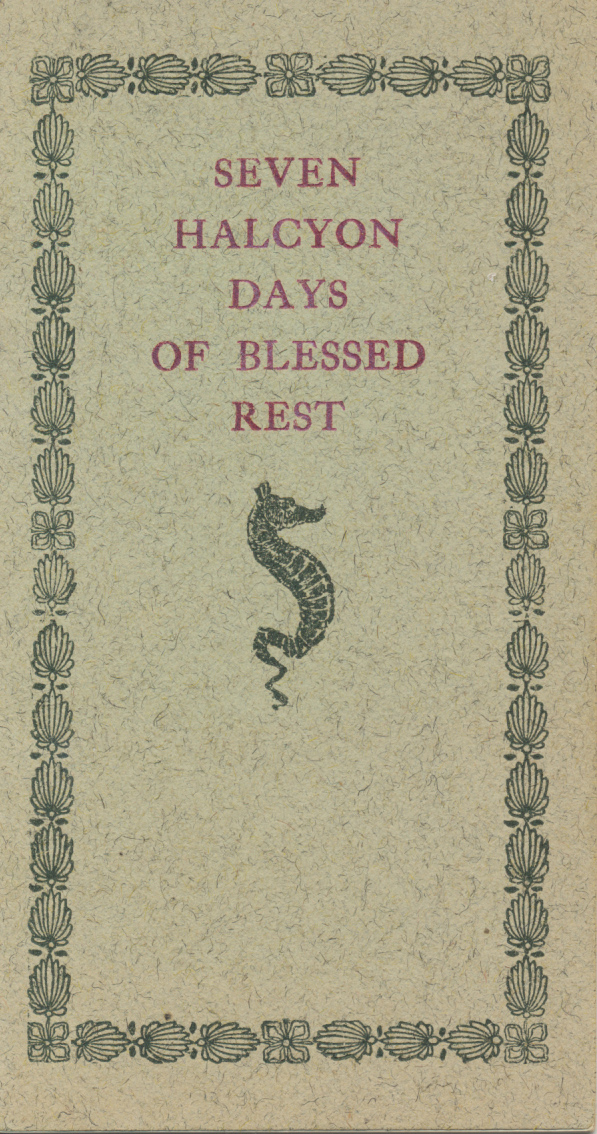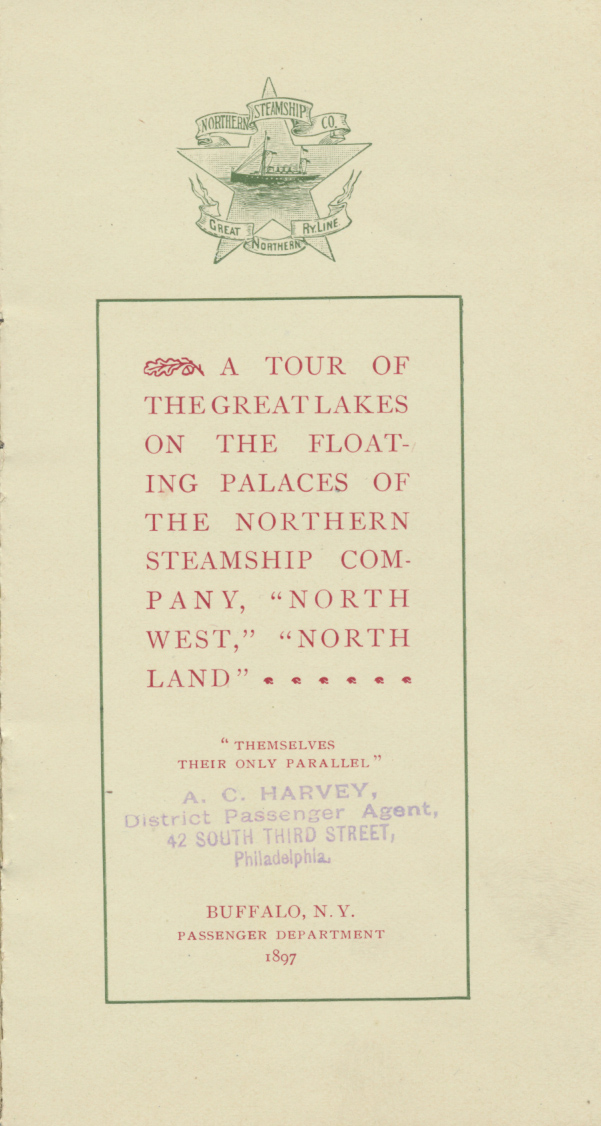 Just as the title suggests, this booklet emphasizes the rest and relaxation that awaited passengers who boarded these steamships. On the first page, the trip is described as, "A tour of the Great Lakes on the floating palaces of the Northern Steamship Company, 'North West,' 'North Land.'"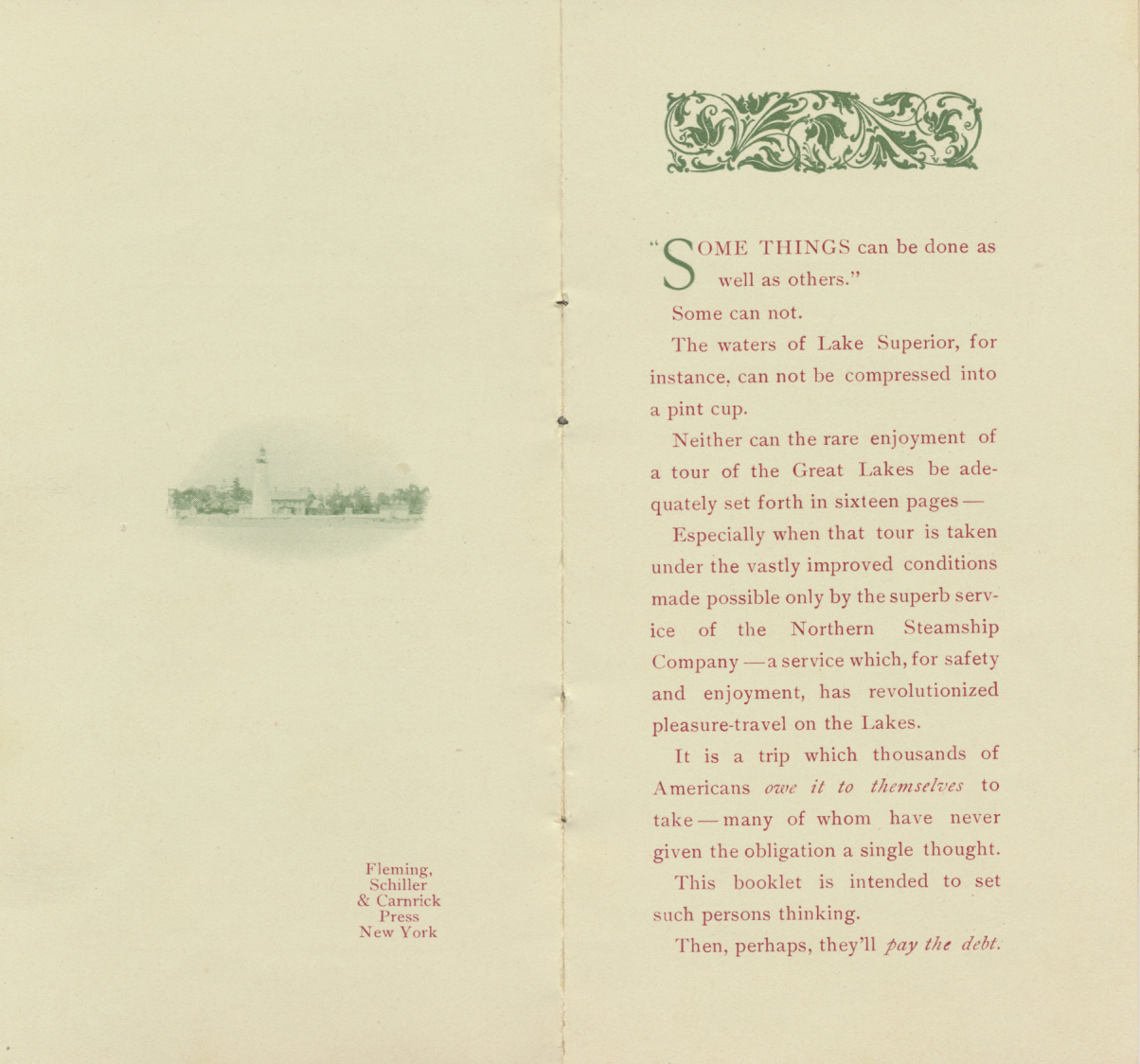 The reader is reminded that a tour of the Great Lakes aboard a steamship is different than an ocean voyage. Instead of being surrounded by vast amounts of open water, passengers had the chance to touch or at least see land each and every day. The ships were described as "great pleasure-resorts afloat, with the consequent advantages of delightful motion, lake breezes, and constantly shifting scenes, thrown in."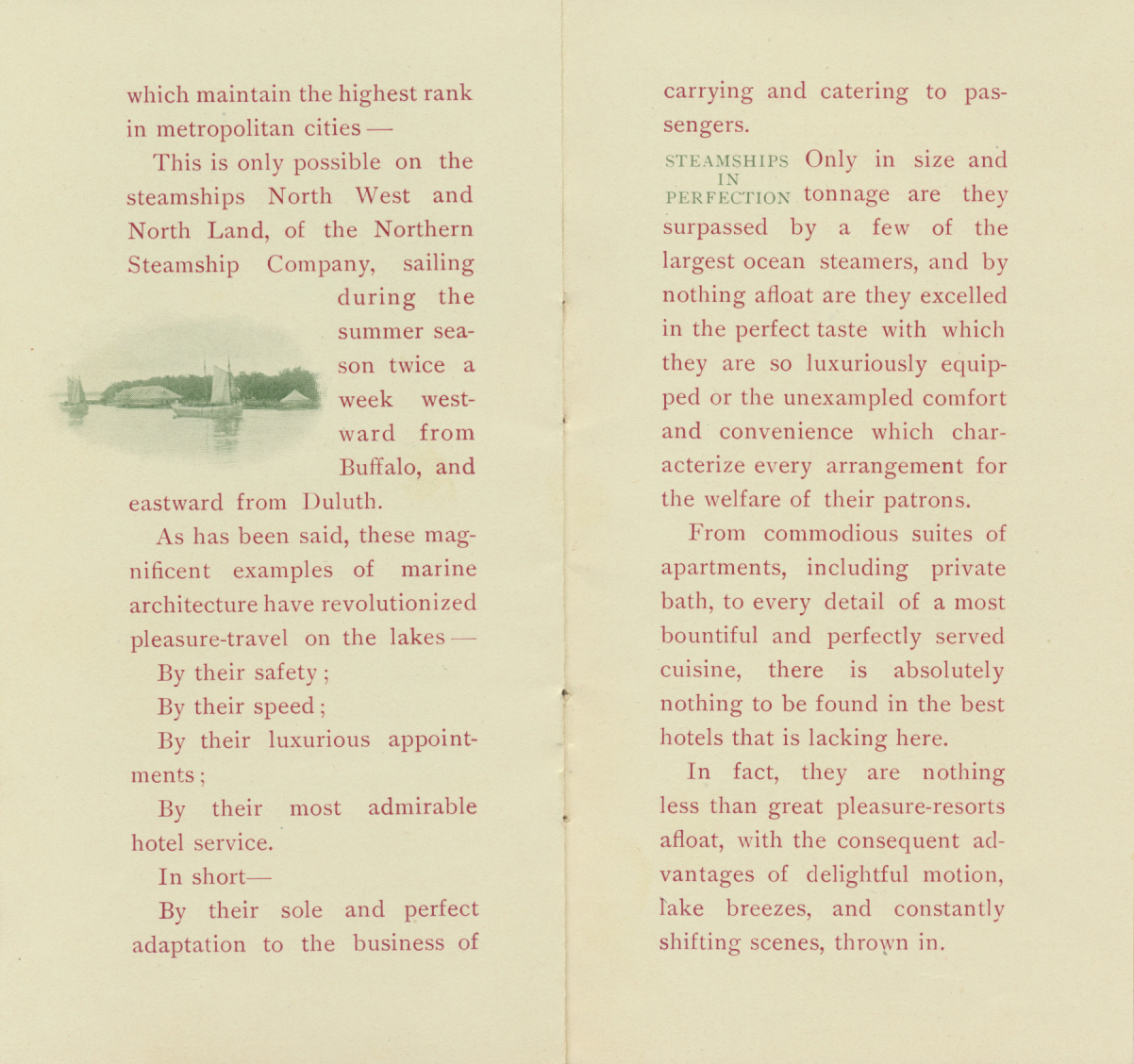 The journey began in Buffalo, New York for those traveling westward or Duluth, Minnesota for those traveling eastward. Roundtrip consisted of seven days, but passengers had the option of disembarking or boarding at any of the stops along the way. These included Cleveland, Ohio and Detroit, Mackinac Island, and Sault Ste. Marie in Michigan.
What might have enticed someone in 1897 to book that vacation? Of course, it might simply have been to enjoy a relaxing week on the water. Other ideas are also offered in this catalog. Newlyweds might have considered a Great Lakes Tour for their honeymoon. Or perhaps someone on a cross-country railway trip might have paused the rail portion to board a steamship and enjoy a bit of fresh air and change of scenery. The trip itself was described as "calming the nerves, and clearing the brain to an extent that will never be realized until it has been experienced."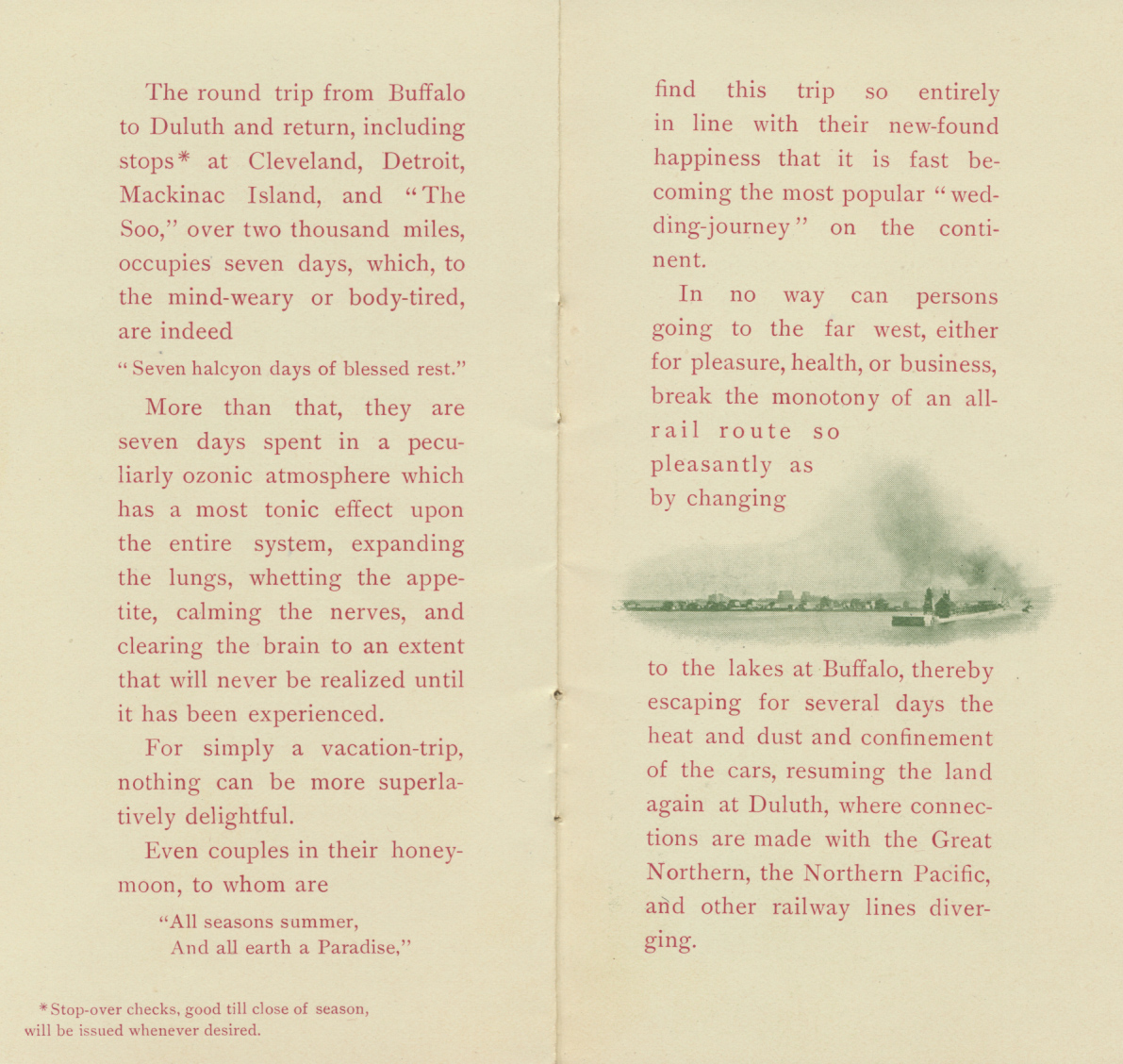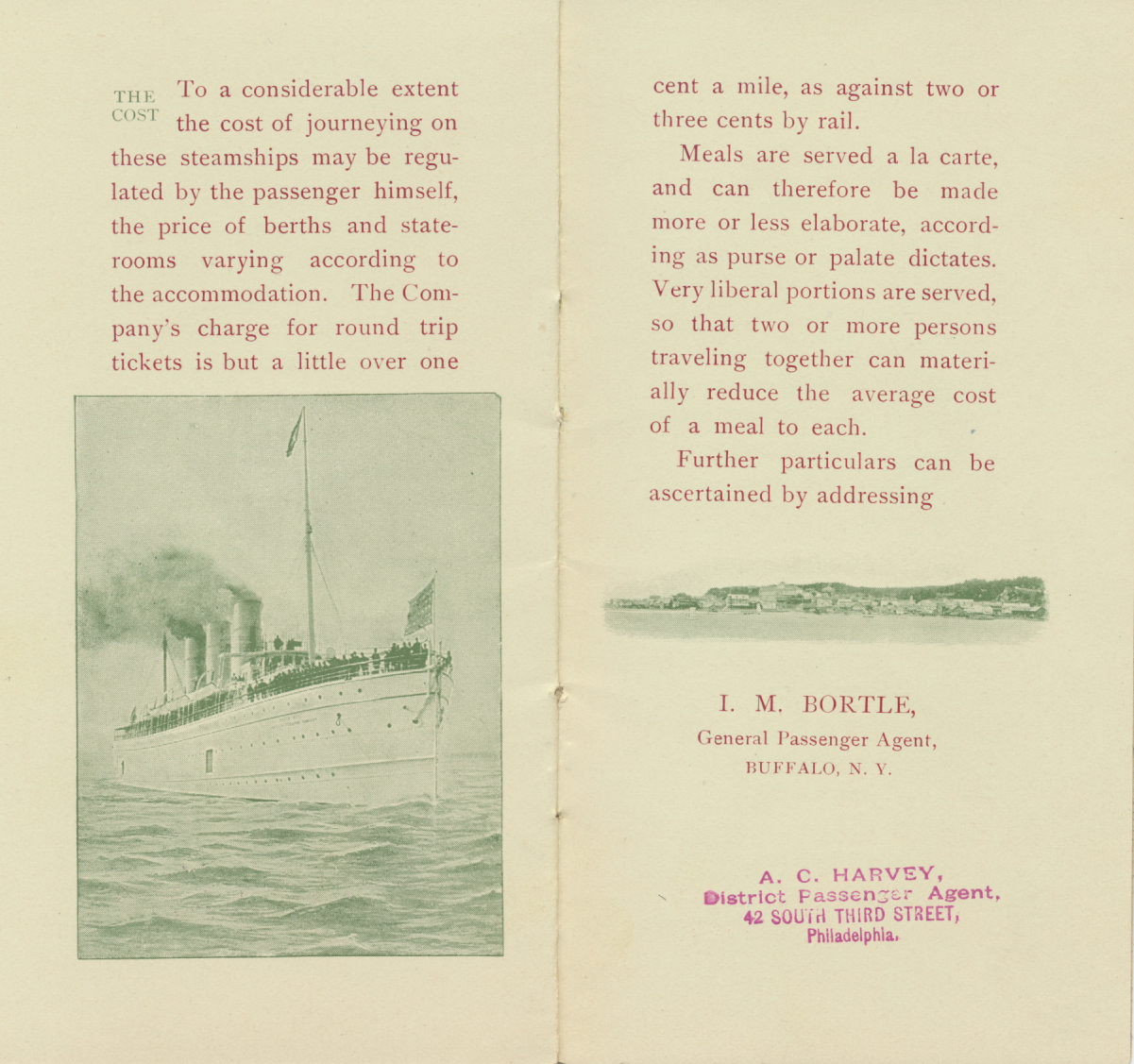 Passengers might have chosen to remain onboard to enjoy a roundtrip experience or disembark at various points along the way to explore a city. The schedule for the Season of 1897, shown below, provided arrival and departure times for each stop. The steamship stopped for only a short time before continuing so those who disembarked at stops along the way were required to find overnight accommodations until the ship returned.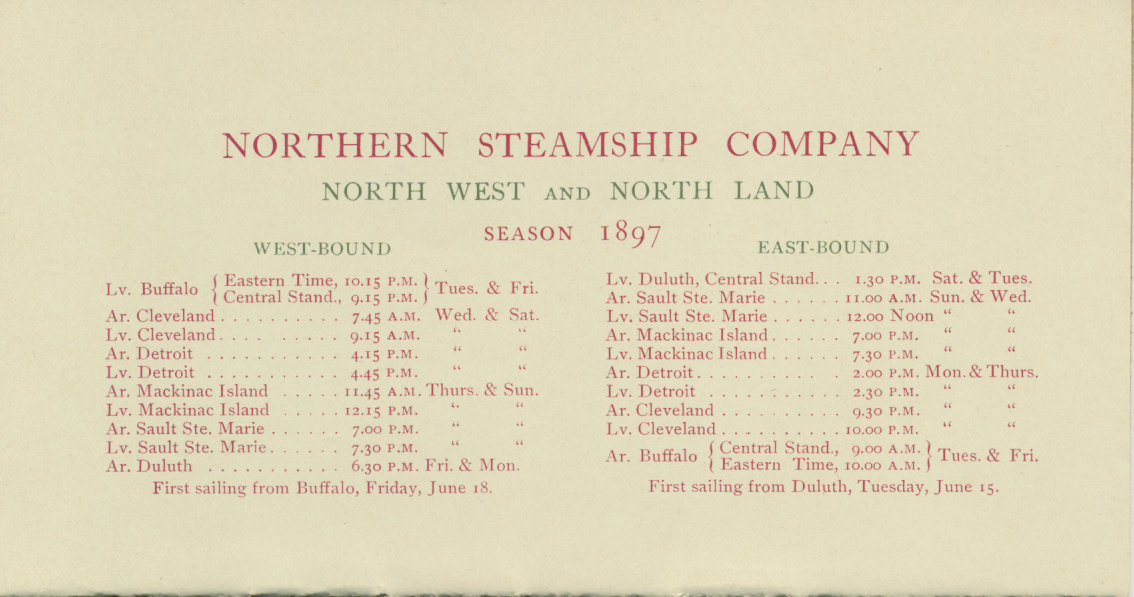 To book those overnight accommodations or find activities in various cities, another trade catalog might have come in handy. This catalog is titled Itinerary: Great Lake Tours (1897) by Northern Steamship Co. It provided general information about cities and stops on the route, excursions to additional cities, and railway connections. Though it does not go into extensive detail, it briefly describes the cities and mentions sites to consider visiting as well as hotels.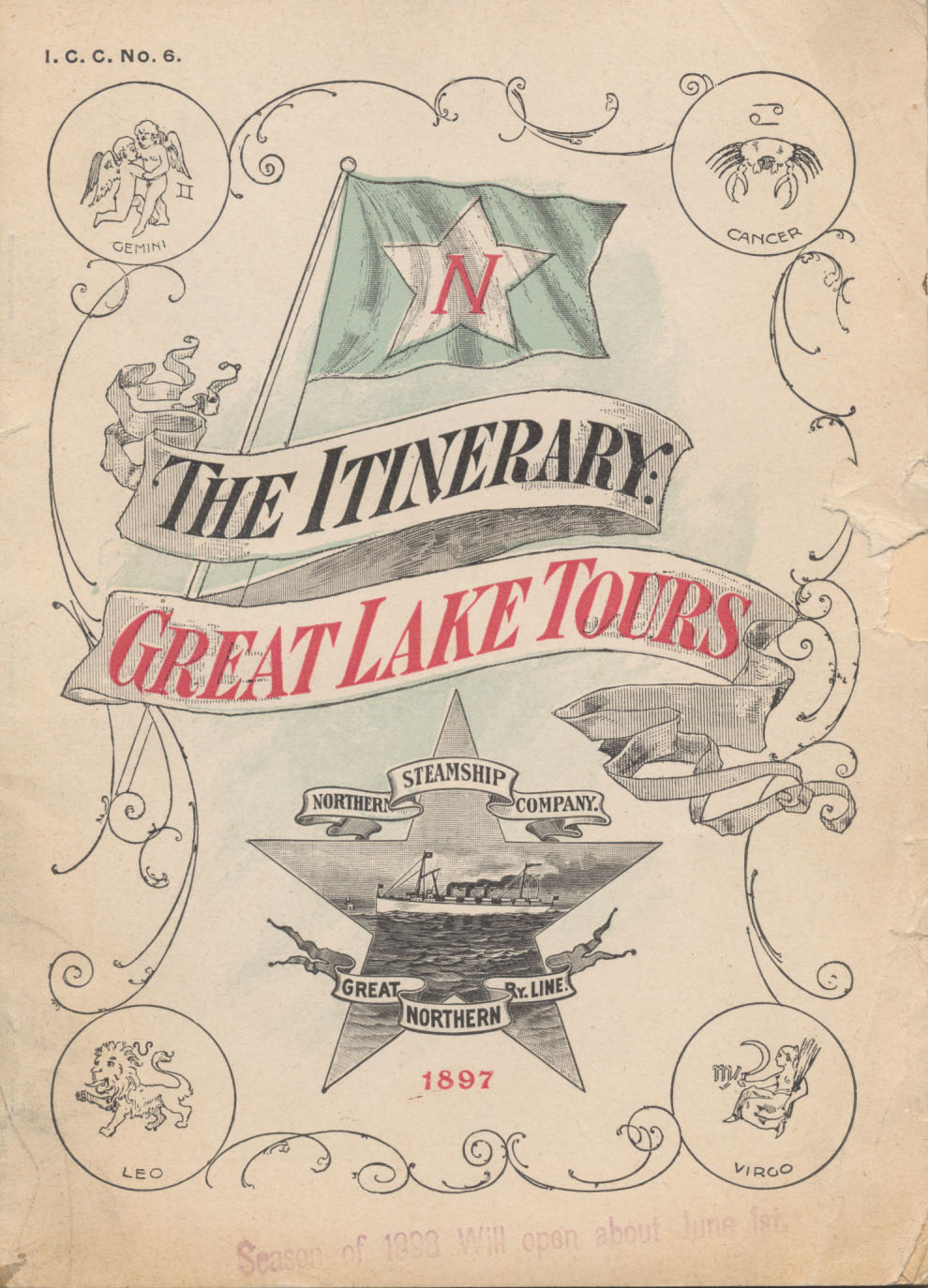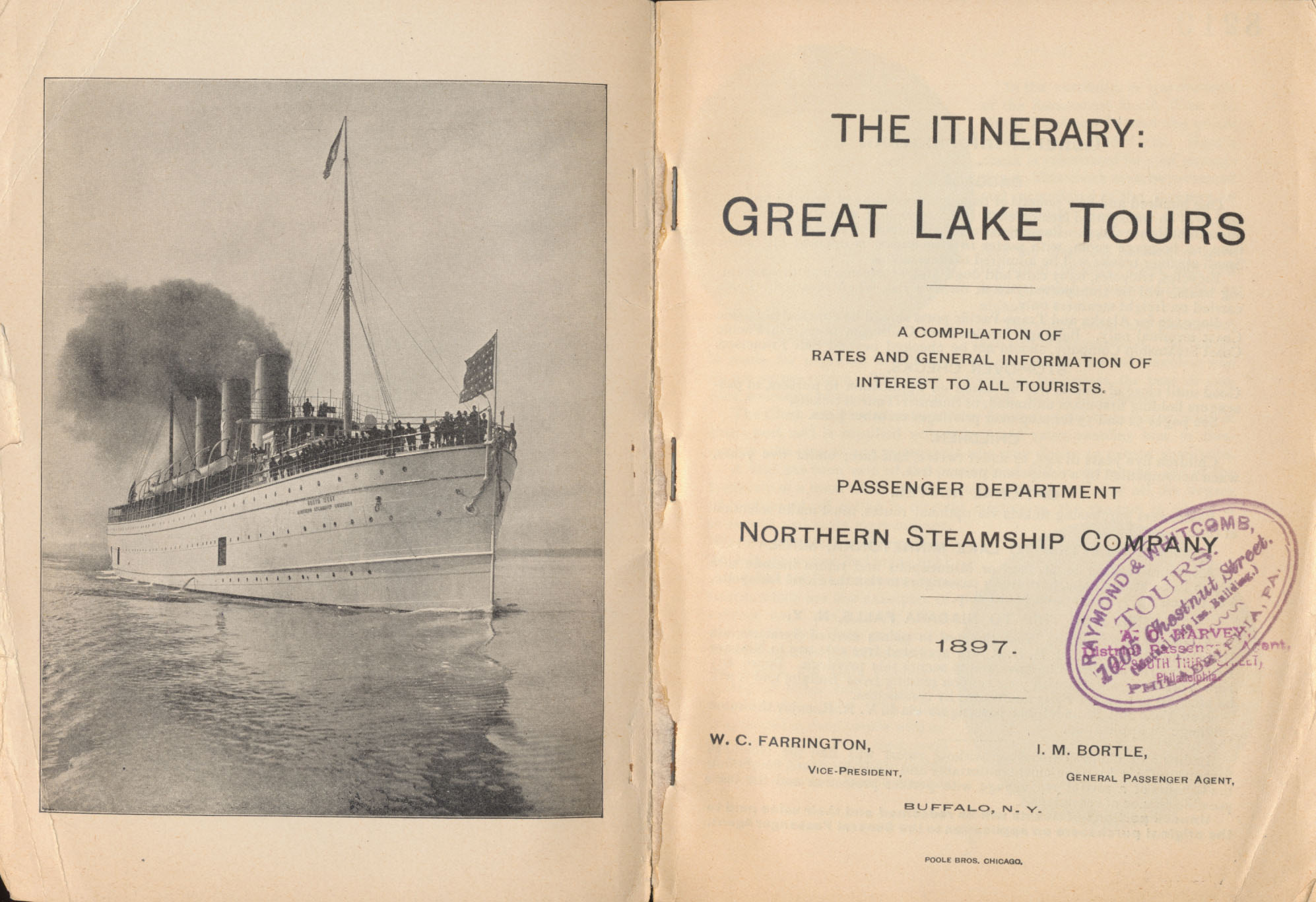 One stop on the route was Mackinac Island, Michigan. Illustrated below, Mackinac Island was described as an area "rich in historical interest" with a "dry, crisp, and invigorating" climate. Perhaps visitors enjoyed the "various attractive drives" or spent their time fishing.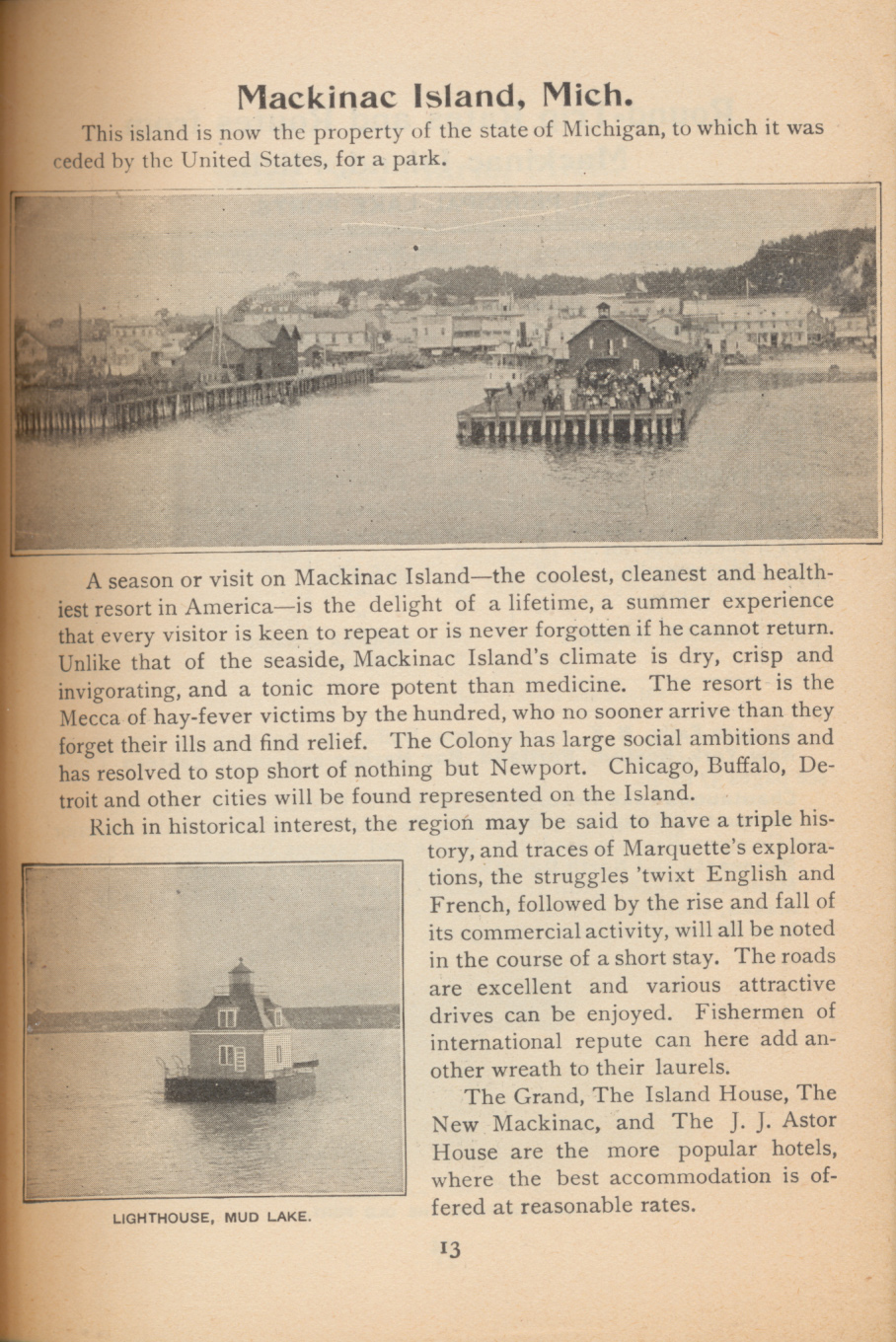 For those interested in fishing, an excursion to Les Cheneaux, also known as the Snow Islands, might have sounded appealing. Tickets for this excursion were sold in connection with a ticket either to or via Mackinac Island. Just a few hours ride from Mackinac Island via the Arnold Line, the Snow Islands might have provided a relaxing day of fishing and change of scenery. Boats, guides, fishing tackle, and bait were available at various points.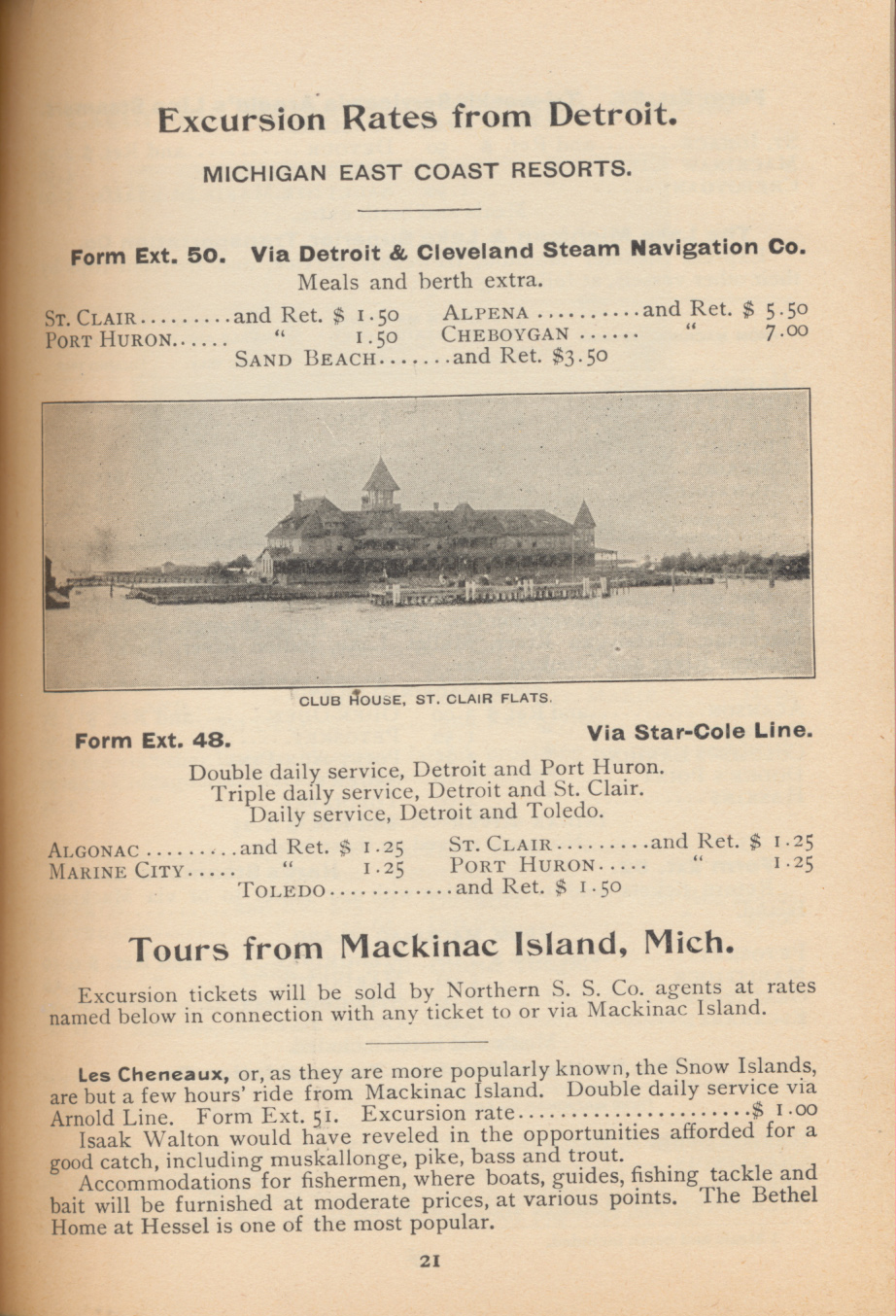 Seven Halcyon Days of Blessed Rest (1897) and Itinerary: Great Lake Tours (1897) by Northern Steamship Co. are both located in the Trade Literature Collection at the National Museum of American History Library. Interested in learning more about vacations aboard these steamships? Take a look at this post for more on accommodations and other excursions.