In the series called "The ABCs of the Corcoran Artist Files" the American Art and Portrait Gallery (AA/PG) Library will explore artists through the materials from the recent Corcoran Vertical File Collection donation by featuring artists whose surnames begin with that letter. This time we are looking at the artists whose last names start with K. This exhibition and blog post were curated and written by Allison Kilberg, a graduate student in the Library and Information Science program at the University of Illinois and a summer intern at the AAPG Library.
Originally from Japan, Yasuo Kuniyoshi came to the United States as a teenager in 1906. Kuniyoshi took painting classes at multiple art schools, but it wasn't until he enrolled at the Art Students League of New York, studying under Kenneth Hayes Miller, that he developed his signature style. As an artist, Kuniyoshi was influenced by his Japanese roots, American folk art, and European Modernism. His paintings are often playful and he is well known for depictions of circus performers and still life paintings of curious assemblages of objects.
Kuniyoshi proudly considered himself American despite immigration laws prohibiting him from becoming a citizen. Even when he was classed as an "enemy alien" after the bombing of Pearl Harbor, he was loyal to the U.S., speaking out against Japan and creating propaganda posters for the Office of War Information.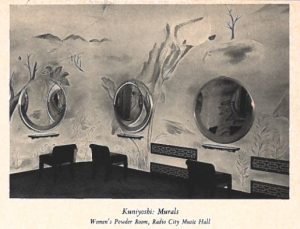 The Smithsonian American Art Museum has several paintings and prints by Kuniyoshi in its collection and had a major exhibition of his work in 2015. While the AAPG Library already has a good deal of information about this artist, the Corcoran donation contains some unique additions to our artist file, such as this image of a mural Kuniyoshi was commissioned to paint in the women's powder room of the Radio City Music Hall. The mural was later poorly overpainted, and during a restoration of the building in the late 1990's it was deemed too expensive to restore. It was sealed with a reversible varnish that could be removed for restoration at a later date, and a replica of the original mural was painted over top.[1] It's possible that the original will never be seen again, so we're lucky to have documentation of it.
Another interesting item in the Corcoran donation is a note written and signed by Lee Krasner. Krasner was a major figure in the Abstract Expressionist movement, studying at the Art Students League and later under Hans Hoffman. She was already well established as a painter when she met her husband, Jackson Pollock.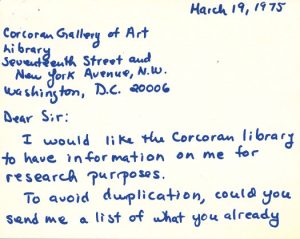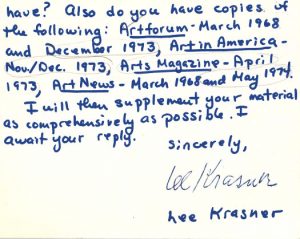 For most of her life, her career was overshadowed by Pollock's success—even after his untimely death. Krasner took her role as arbiter of his estate very seriously, devoting her life to promoting his work while continuing her own creative practice. She didn't often engage in self-promotion, so it's unique to see this note from her to the Corcoran library expressing a desire for information about her work to be available for researchers.
A lesser known, but equally fascinating artist in the K's is Whitney Kent. Kent attended the Corcoran School of Art in the 1930s and received multiple awards and honorable mentions for her work there. Her artist file contains correspondence with and materials sent to the Corcoran's archivist in the 1980's in preparation for an exhibition about former students. While it appears that Kent's work was ultimately not included in the show, the exchange resulted in a detailed record of Kent's career, as well as color photos of some of her artworks for our artist files.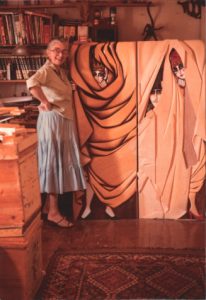 After completing her education, Kent worked primarily as a corporate artist, creating visuals for several companies including AT&T. Her marriage to an army colonel resulted in her living overseas in Afghanistan, Japan, and Turkey, where she continued to paint and exhibit her work. Notably, she painted multiple commissions for King Mohammed Zahir Shah of Afghanistan for his personal collection.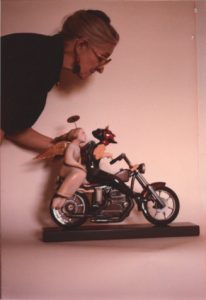 Back in the U.S. and in her 60s, Kent developed an affinity for the three-dimensional. She began making whimsical, painted wood sculptures, meticulously carved, sanded, varnished, and waxed. These works became quite popular among arts and crafts galleries, museums, and collectors. In 1978 an ornament Kent created was hung on Vice President and Mrs. Walter Mondale's Christmas tree at their official residence as part of a display by the Museum of Contemporary Craft. And—fun fact—musician Elton John owns two of her pieces!
The AA/PG Library had very little information on Whitney Kent prior to the Corcoran donation, so these materials are a great addition to our artist files, helping us fill a hole in our collection.
Artists on display for the K's of the Corcoran are:
Luise Kaish (1925-2013), Rockwell Kent (1882-1971), Whitney Thoenen Kent (1913-1999), Lee Krasner (1908-1984), Yasuo Kuniyoshi (1889-1953), Elaine Kurtz (1928-2003).
[1] Iovine, Julie V. "Piece by Piece, a Faded Icon Regains Its Art Deco Glow." The New York Times. September 06, 1999. Accessed July 26, 2019. https://www.nytimes.com/1999/09/06/nyregion/piece-by-piece-a-faded-icon-regains-its-art-deco-glow.html.