This post was contributed by Isabella Buzynski, 2022 Summer Scholars intern with the American Art and Portrait Gallery (AA/PG) Library. Isabella is currently attending the University of Michigan School of Information for the Master of Science in Information program.
This summer, I had the great pleasure of interning under the mentorship of Alexandra Reigle at the American Art and Portrait Gallery Library. I have continued an ongoing project to process and integrate the Art Students League of New York papers into the library's existing Art and Artist File collection, comprising over 150,000 files of ephemeral materials on art, artists, art institutions, collectors, and special subjects. Day-to-day, this consists of pulling batches of Artist Files, deciding what items should be added to each, removing dozens of staples, stamping the items, making a mess, and then putting them all back on the shelf for researchers to consult. I have learned first-hand how the decisions that archivists and librarians make shape the historical record and have gained an expedited education in American art through the exhibition materials, news articles, and letters that I encounter. I also encountered some incredible stories, including that of Atlanta C. Sampson's ninety-year career as an artist.
Born in 1896 on a small farm between Lyle, Minnesota, and Toeterville, Iowa, Sampson painted for most of her long life in relative obscurity. She was "discovered" in 1987 when Owen Ryan, a marketing executive, came across one of her paintings in the window of a New York delicatessen. Ryan was introduced to Sampson, sitting inside at one of the booths, and eventually took her up on an invitation to see the hundreds of paintings that filled her tiny one-room apartment on the Lower East Side to the brim. He was dazzled by the beauty of her work and touched by the determination of the 91-year-old-woman who had labored uncomplainingly through decades of want in pursuit of her passion. "God created me to be an artist," she told Ryan, "It was just as necessary as eating or sleeping for me to paint. I had to do it. It was an obsession all my life." At that time, thirty years after moving to New York City to become a full-time artist, Sampson was preparing to move back to Toeterville having never realized her dream of putting on a one woman show. Ryan decided to champion her cause, organizing her first solo show at the National Arts Club in Manhattan.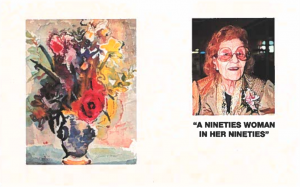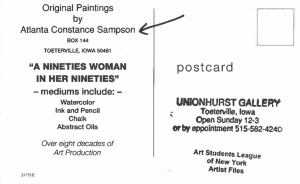 "True Colors: The Paintings of Atlanta Constance Sampson, 1896 – Present" opened on May 24, 1988, and was an immediate success. It elicited excellent reviews from respected art critics and interviews with CBS, CNN, and NBC. In the years between her first solo show and her death at the age of 98, Sampson's work was exhibited in various U.S. museums, auctioned at Christie's, and installed in a permanent collection at Unionhurst Gallery in Toeterville. On her 96th birthday, she was honored for her contribution to the arts with a private reception and exhibition at the Russell Building Rotunda on Capitol Hill. Newspapers invariably referred to her story, one of exceptional struggle and satisfying payoff, as an art-world "fairytale." But when I read through the Atlanta C. Sampson file, I was less intrigued by her seven years of relative fame than by her nine decades of tireless work. It seems there was never a moment when she wasn't absorbed with her art.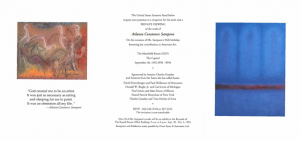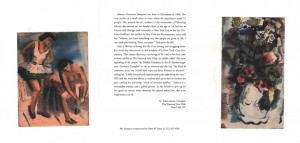 After graduating from the University of Minnesota Art Education Department in 1918, Sampson moved to Detroit where she worked as an art teacher during the day and spent her evenings taking art classes. During the 1930s and 1940s, she exhibited frequently in regional exhibits held at the Detroit Institute of Arts and the Scarab Club, among other smaller art galleries. She entered her watercolors in competitions against other instructors from the Wayne University art department and Detroit Public Schools, winning second and third prizes. Her paintings were occasionally reproduced by the Detroit News and Free Press. During this time, in addition to her earlier still lifes of flowers and landscapes, Sampson began depicting urban scenes of Detroit's industrial worksites, jazz clubs, and markets. She experimented with watercolor techniques and abstraction.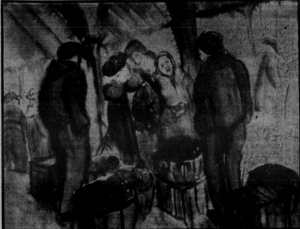 By 1946, Sampson was exhibiting and selling her watercolors regularly at the Detroit Artists Market and began exhibiting her work with the Detroit Watercolor Society, which was founded that same year. During a time when women were often excluded from male-dominated arts and social clubs, she was an active member of the Detroit Society of Women Painters and Sculptors and on at least one occasion exhibited at Women's City Club, which was at that time one of the largest women's clubs in the world. From 1948 through 1952, Sampson exhibited and won prizes at the Chicago International Watercolor Competition.
Despite these successes, by the late 1940s Sampson was becoming restless, feeling that she did not have enough time to devote to her art while also working as a teacher. She decided to retire from teaching and, sometime around 1954 (sources vary along with Sampson's memory), she arrived in New York City to become a full-time starving artist at the age of 56. She knew no one in the city, and supported herself through office work supplemented by occasional freelance gigs designing fabric and wallpaper prints. She studied in Provincetown, Massachusetts, and in New York City under the famous artist Hans Hofmann, who encouraged her to continue painting and honing her craft. Taking this advice, in the 1960s she enrolled in classes at the Art Students League of New York, studying with Professors Dorfman, Stamos, Thomas, Fogarty, and Klonis. Likely influenced by these professors and her exposure to the thriving abstract expressionism movement in New York City, Sampson began experimenting with colorful abstract compositions. One of these works, "Light Fantasy with Red," was later selected to become part of the permanent collection at the Art Students League.
Although Sampson's work was modern, she was often turned away from galleries because of her age. A woman in her 70s, she could not compete against les enfants terribles, young artists like Robert Rauschenberg who were charming the art world with their youth and irreverence. She sold few of her paintings and, unable to afford tuition, was forced to take a hiatus from her studies. Sampson lied about her age to get typing jobs to pay for art materials and when the funds ran out she painted on paper bags and the backsides of used canvases. Continuing to work part-time to sustain herself, she returned to the Art Students League in the late 1970s. In 1981 and again in 1982, she won Merit Scholarships at the League that allowed her to paint full-time for two years. I imagine this was an exciting time for Sampson, always yearning for more time to devote to her "obsession."
Sampson's watercolor of cranes was discovered by Owen Ryan in 1987 and the rest, as they say, is history. Her story and her paintings, now scattered across the country in public and private collections, are her legacy—there's even a lovely song dedicated to Atlanta C. Sampson. After all, I am struck by how little we can ever know about her, by how much is absent from the Artist File. That said, I hope her story moves you like it moved me. As I say goodbye (for now!) to the AA/PG LIbrary to finish my degree and continue pursuing a career in archives, I am inspired by Sampson to never wait around for miracles, but to create opportunities to always do what I love.
Sources: 
Atlanta C. Sampson, Art & Artist Files, Smithsonian American Art and Portrait Gallery Library, Smithsonian Libraries and Archives, Washington, D.C.
The Detroit News:
"Variety of Talent Marks Women Painters Show," March 17, 1935, Arts Section, 17.

Florence Davies, "Michigan Artists' Show Opens With Boom in Sales," November 12, 1935, 9.

"Wayne Art Awards Announced at Show," May 22, 1938, General News, 16.

"Water Color in Michigan Show," December 7, 1941, Sports Section, 13.

Florence Davies, "Full Program Ahead," May 19, 1946, Home and Society, 19.

Florence Davies, "Tenth Annual at Wayne," May 26, 1946, Home and Society, 19.

Florence Davies, "Art Lovers Hail Market," October 13, 1946, Home and Society, 21.

"Women Painters Plan Exhibition," April 3, 1947, 34.

Florence Davies, "Michigan Water Colors," June 29, 1947, Home and Society, 17.

Joy Hakanson, "A Full Art Calendar," January 11, 1948, Home and Society, 17.

Joy Hakanson, "Thinking Caps in Order," February 15, 1948, Home and Society, 22.

Joy Hakanson, "Design for Building," April 18, 1948, Home and Society, 22.

"Art Notes," March 27, 1949, Home and Society, 18.

Joy Hakanson, "Detroit Masterpieces," April 24, 1949, Home and Society, 22.

Joy Hakanson, "Quartet Shares Artists Market Show," January 22, 1950, Home and Society, 16. 

"Women's Annual," April 16, 1950, Home and Society, 22. 
The Detroit Free Press:
"State Art Show Starts Tonight," November 12, 1935, 8.

"Art Educators Exhibit," October 20, 1940, 55.

"Teachers Take Turn as Art Exhibitors," October 5, 1941, 55.

"Show Discloses Arresting Talent," October 4, 1942, 57.

"Artists' Market Show," May 19, 1946, 18.

May 26, 1946, 18.

Arthur Dorazio, "Art Notes," September 30, 1951, 22.
The Iowa Courier:
Jennifer Jacobs, "Artist remains in spotlight at age 98," September 19, 1994.
The New York Times:
Gregory Jaynes, "An Artist at 91: Her First Show Outside the Deli," April 20, 1988, B1.

Michael T. Kaufman, "Amazement, Wonder and Meaning of Beauty," November 18, 1992, B4.

William Grimes, "Atlanta C. Sampson, Artist 98; Had Her First Solo Show at 91," May 24, 1995, D19.