With just one glance at the front cover of this trade catalog, it appears like Spring is on the way. A lady is surrounded by flowers. Purple ribbons accessorizing her outfit are gently blowing in the breeze. Let's take a look at what consumers might have stumbled across in 1915 while perusing this mail order/department store catalog.
The catalog is titled Spring & Summer Catalog (1915) by John Wanamaker. As you might expect, much of it is devoted to fashion, but other items were also available. Customers had the option of buying furniture and home furnishings, such as silverware, curtains, linens, rugs, and more.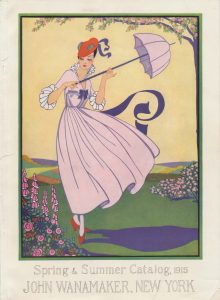 Just like other John Wanamaker catalogs, such as the Fall & Winter Catalog 1915-16, this catalog also offered the mail order option. It begins with an introduction encouraging consumers to think of the catalog as a door between their home and the department store.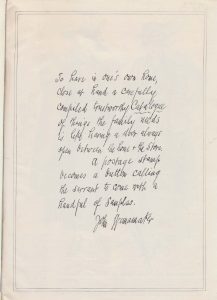 Then, it goes on to illustrate clothing. This includes women's suits, coats, raincoats, skirts, blouses, sweaters, and dresses. In the image below, two ladies are enjoying an afternoon tea modeling their early Spring dresses. The lady on the left is wearing a putty color dress made of worsted serge. It consisted of a high-waist skirt with a jacket style top and closures of covered buttons and loops. The dress was available in putty color trimmed with Belgian blue, navy blue with putty color, or all black.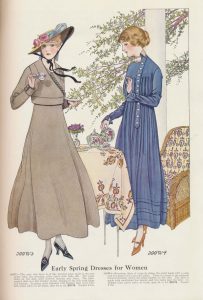 Bathing suits are also shown in this catalog. The one-piece bathing suit worn by the lady on the bottom right was made of messaline with a pointed taffeta collar. The turned back cuffs on the short sleeves were trimmed with buttons as was the pleated belt. It was available in black or blue. Some bathing suits came with tights but this one did not. Bathing caps were also sold separately. One bathing cap included handmade rubber roses which the lady on the top left is wearing.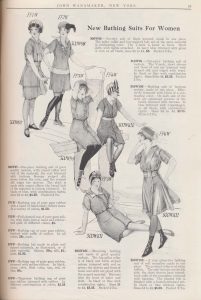 Though much of this catalog includes women's fashion, some pages show men's and children's clothing and accessories. Clothing for children and infants are shown below. The girl on the top left is wearing a buttoned navy blue serge, sateen-lined, coat with scalloped cuffs and collar. It was available for children aged two to six years old. An accompanying mushroom-shaped hat adorned with velvet and silk flowers completed her outfit.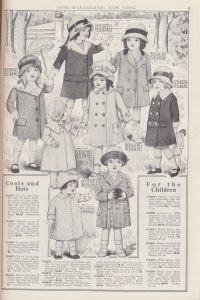 At the time this catalog was printed in 1915, John Wanamaker was exploring the possibility of expanding their mail order service. The Home Furnishings section begins with an explanation that they are including a small portion of home furnishings in this catalog to determine if they will later offer a larger mail order service for home furnishings.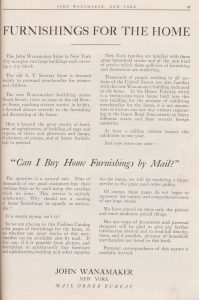 Below are some examples of their furniture. The "Library Pieces" page includes upholstered armchairs, rocking chairs, and Davenport sofa beds, like the one shown on the bottom left. This particular sofa bed was 6 feet 10 inches long, upholstered in leather, and included a mattress.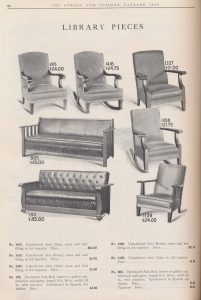 Besides furniture, other items such as draperies, linens, bedding, curtains, rugs, and plated silverware, such as the ones illustrated below, were also available from the Home Furnishings section. Customers could buy coffee sets, trays, platters, cheese and cracker dishes, and more.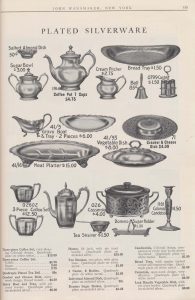 Spring & Summer Catalog (1915) and other trade catalogs by John Wanamaker are available in the Trade Literature Collection at the National Museum of American History Library. Interested in other John Wanamaker catalogs? Take a look at a post highlighting their Fall and Winter Catalog 1915-16 (1915-1916) to explore fashion for the colder months or this post about a Wanamaker Diary (1910).