Families have different Thanksgiving traditions. Some may prefer a casual dinner while others plan formal events. Either way, a Thanksgiving meal requires many pieces, everything from individual place settings to serving dishes. How might Great Grandma have set her table for a special occasion in 1915? This trade catalog may give us a glimpse.
The trade catalog is titled Spring & Summer Catalog (1915) by John Wanamaker. Though the clothes pictured in it are suitable for Spring and Summer, the kitchen and cooking necessities work at any time of year. And, that includes possible items, minus the food, for a Thanksgiving or holiday dinner. The home furnishings section illustrates furniture, silverware, dinnerware, and linen. Let's take a closer look.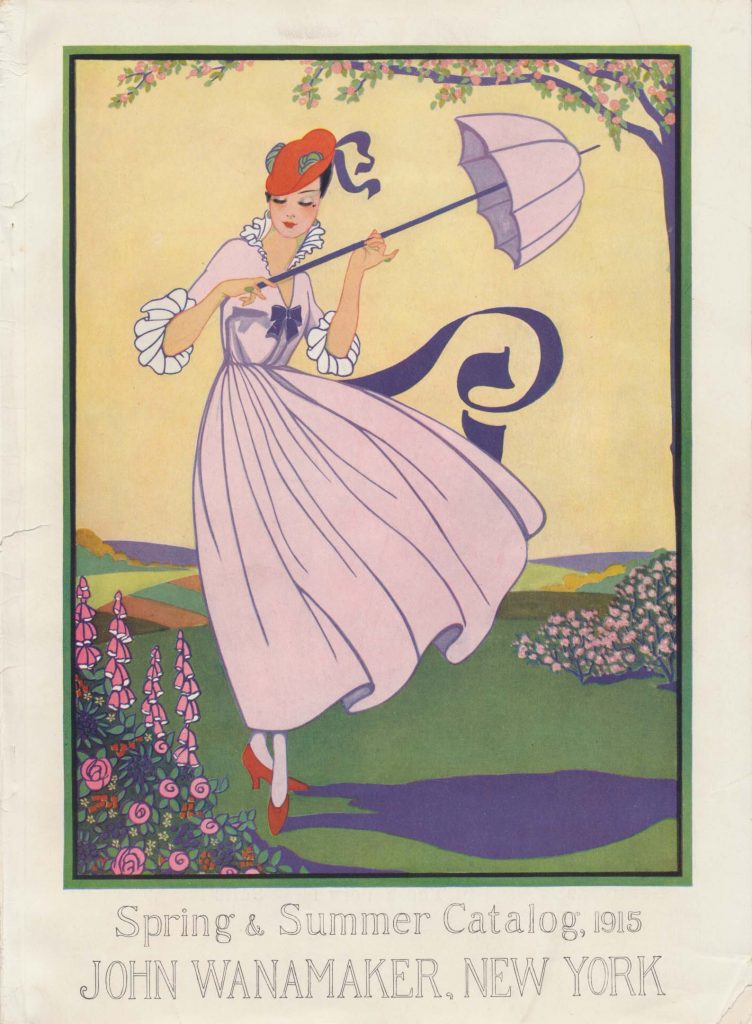 A large enough table would have been essential. The dining room tables below were made of oak. The Oak Extension Table No. 6251 (below, middle bottom) had a solid quartered oak top with a 10-inch pedestal. Its six-foot extension would have been especially useful during the holidays to create extra space for visitors. The Golden Oak Chairs were available as either arm or side chairs with a cane seat or slip leather seat. An example of a cane seat is shown on No. 924 Golden Oak Side Chair (below, bottom left). A slip leather seat is pictured on No. 155 Golden Oak Arm Chair (below, top right).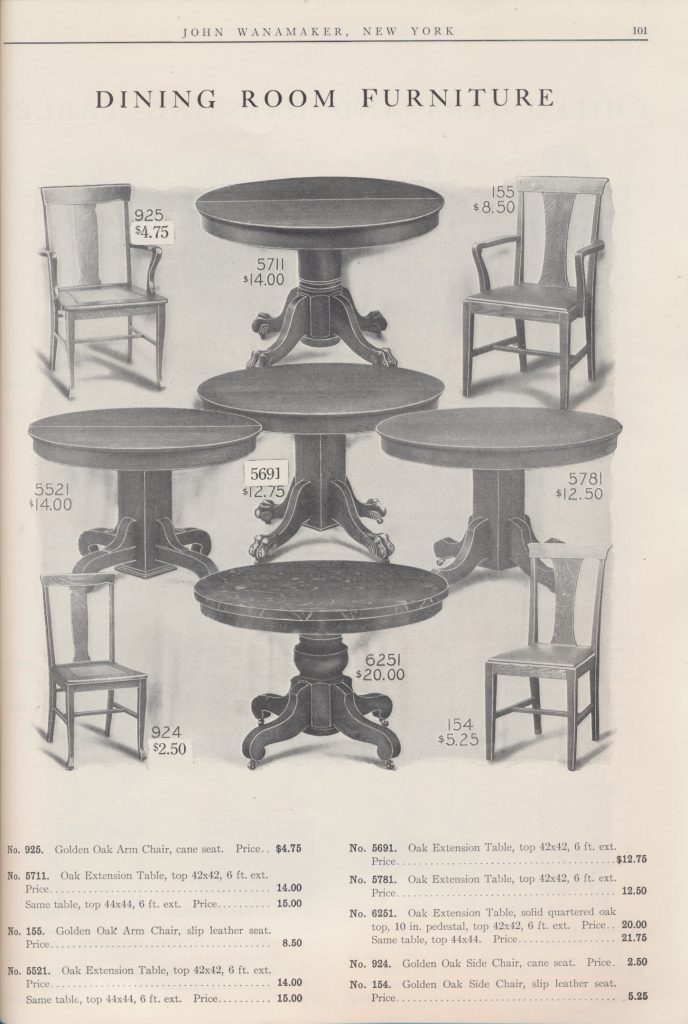 Perhaps, in 1915, Great Grandma used plates such as these below. John Wanamaker sold several designs, both simple and decorative patterns. Some pieces had a single lined gold border while others were available with blue or green lined borders. Another option was floral spray under glazed decoration. These dinner pieces were sold separately or as a set.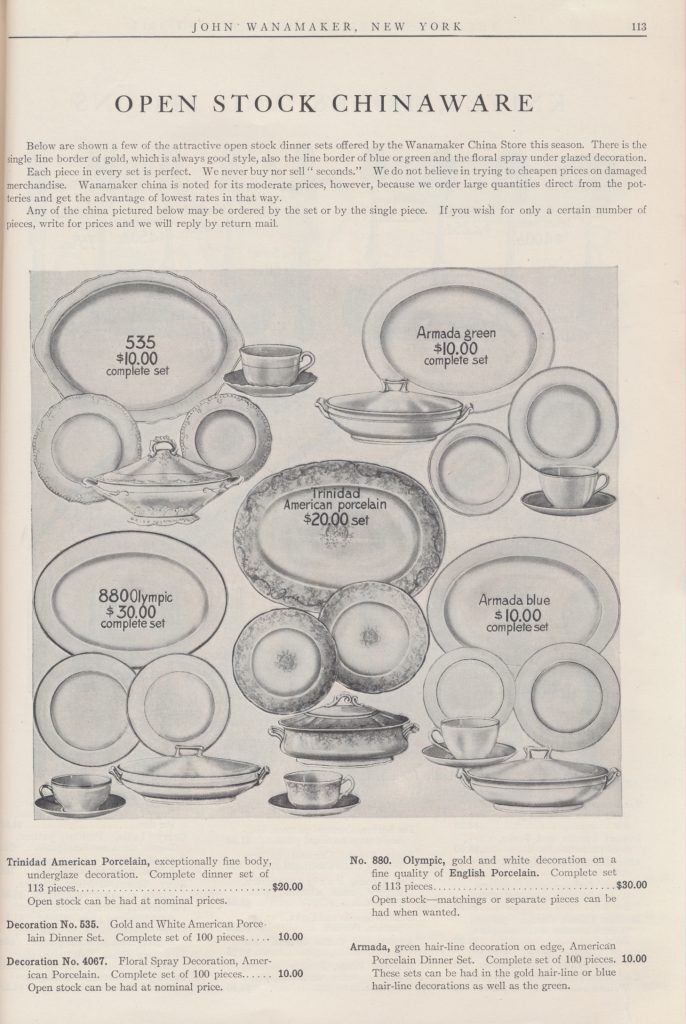 Whether casual or formal, each person needs an individual place setting with knife, fork, and spoon. John Wanamaker offered both individual and serving utensils for dinner and dessert. The dinner and dessert forks, dinner knives, teaspoons, coffee spoons and serving utensils, including pie servers, sugar spoons, and gravy ladles, are illustrated in two different patterns. These are Cardinal or Puritan. A three-piece carving set for the main course was also available but without a choice of design.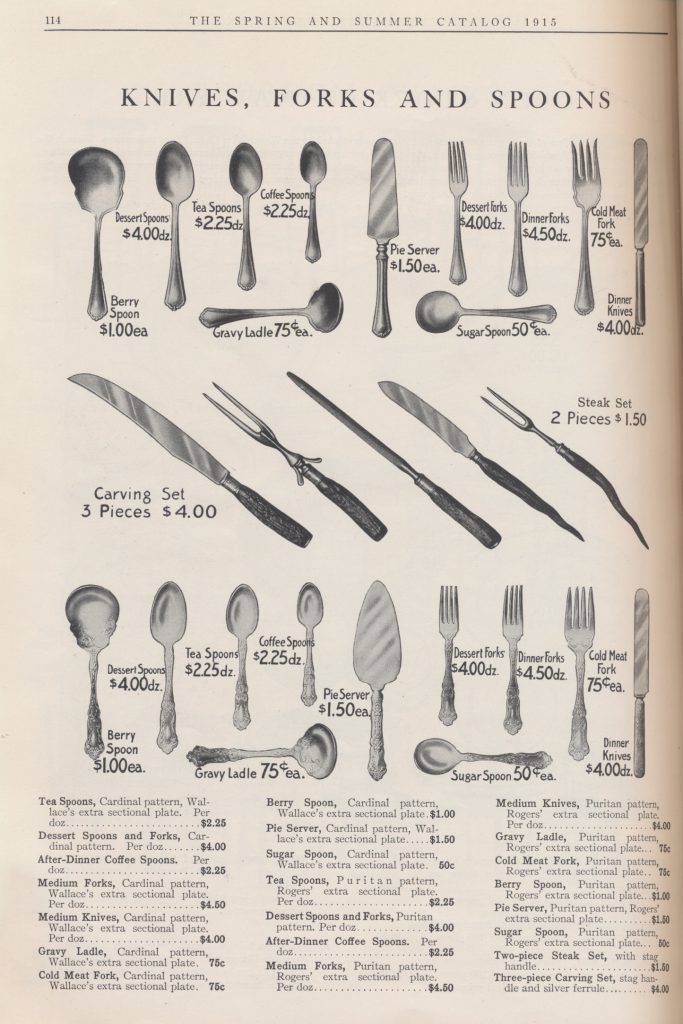 Speaking of serving utensils, what might Great Grandma have used for her serving dishes? Perhaps, she displayed the dinner's main course on the Meat Platter pictured below. The Gravy Boat and Tray, to go along with the Gravy Ladle mentioned previously, are shown just above the Meat Platter. As for the side dishes, corn or mashed potatoes might have been served in a Vegetable Dish with cover, like the one shown directly to the right of the Meat Platter. Warm bread was probably passed around the table on a Bread Tray (below, top right).
After dinner, perhaps family and friends chatted over coffee and dessert. The three-piece coffee set (below, top left) consisting of a seven-cup Coffee Pot, Sugar Bowl, and Cream Pitcher might have come in handy.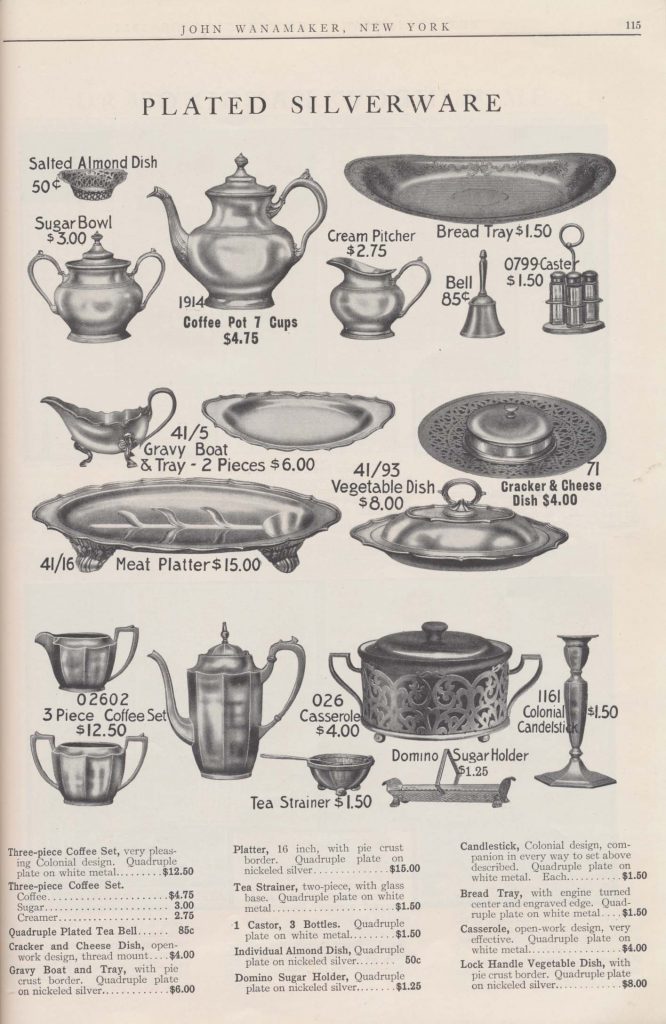 John Wanamaker also sold a variety of cloth napkins with matching tablecloths. These designs included floral patterns. The note at the bottom of the page is a reminder that this particular catalog was printed during World War I. It reads, "Owing to the war, the Linen market is in a very unsettled condition." It continues by explaining that the linens shown were in stock at the time of printing of the catalog but not guaranteed to remain in stock.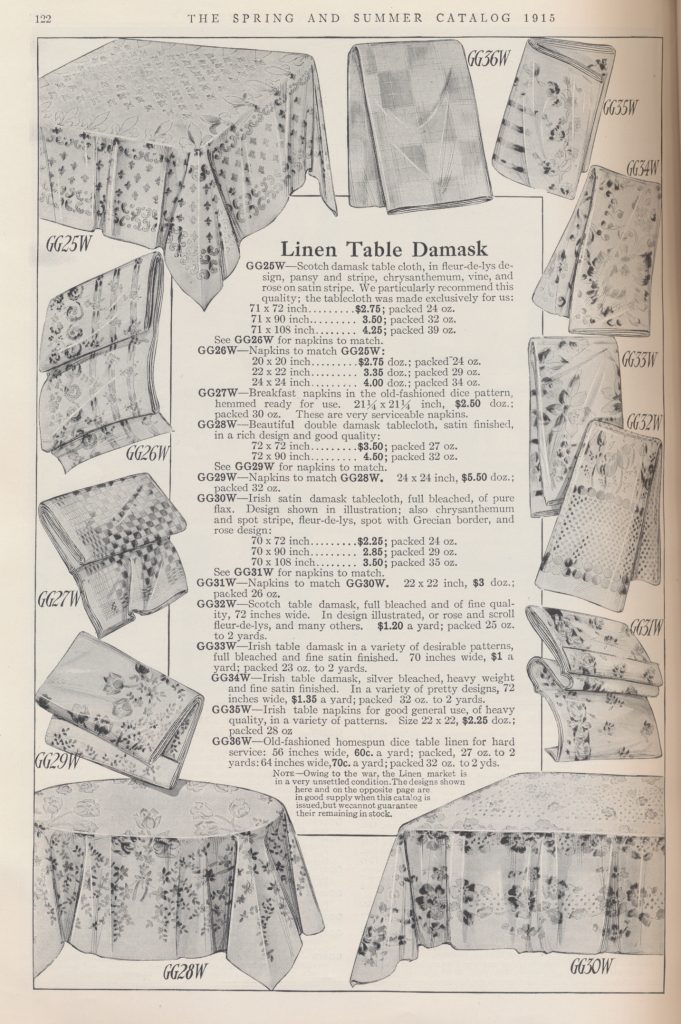 Just like today, some customers might have preferred shopping from the convenience of their home while others chose to shop in-person at the department store. In 1915, all of these items and more were available via the store's mail order service. According to this catalog, shoppers also had the option of wandering a 16-story building located in New York focused mostly on home furnishings.
Spring & Summer Catalog (1915) and other trade catalogs by John Wanamaker are located in the Trade Literature Collection at the National Museum of American History Library. Interested in more tableware from the past? Explore table settings from 1899-1900 in a Joel Gutman & Co. trade catalog via this post.